What a summer! by Jordan Larson
Hello everyone,
My apologizes for the delay I have been training hard in preparation for London. Here is a summary of where I left off from my last blog. Enjoy!
After finishing in third place in Champions League, it was time to go back to Russia and finish up the league. Before going to Baku, we won our first semi-final match against Omsk in the series of 3. Although our team was more talented than Omsk, we still struggled against them. We beat them in 4 sets at home and then secured our berth into the final round with a win on the road in 5 sets. There were times when we were playing good volleyball and other times when I didn't even recognize my team. It was ugly, but we got through it and were on to the finals. By winning this game we not only advanced to the finals but we also qualified for Champions league next year. While my focus was still on winning the finals, it was a huge relief to qualify for Champions League.
After beating Omsk, we headed back to Kazan and got a good week of training in before taking on Dinamo- Moscow in the finals. If you remember from my earlier blog we played Moscow in the finals of the Cup of Russia and lost, but I was not going to let that happen again. We knew it was going to be a tough match- up, but we were ready to take on the challenge to bring the title and cup back to Kazan. Since we were first in the league all season we got to host the first two games of the series of 5 at our home. The first game at home was a breeze. We played very well as a team and it was great to see. I thought to myself if we can play like that Moscow has no chance. Unfortunately, we did not have the same outcome in the second game of the series. Moscow came out strong and we couldn't find an answer. The series was now tied 1-1 and we had to go to Moscow and try and to win 2 games on their home court. This was going to be a very hard task, but knew we had it in us.
The next day we were off to Moscow to win the Championship. We came out strong in game 3 and won 3-1. There was no time to celebrate because we had to turn around the next day and try to do it again. Moscow just couldn't control us and we won the 4th game in 5 sets. It was one of the most exhausting series and final game I have ever played it. After we won I just stood in awe… thinking, "Oh my gosh! We won!!" I could not be happier for my team and management. It was one of our goals for the season and I loved seeing the excitement on everyone's face after winning. This was my 3rd championship won in Russia and I am the 1st foreigner in the Women's league to win back-to-back championships. I thought that was a pretty cool honor, but I'm not done yet! I have signed one more year with Dinamo-Kazan and have one more big goal in mind, which is to win Champions League. I think we will have the team to do it and great management to get us where we need to be.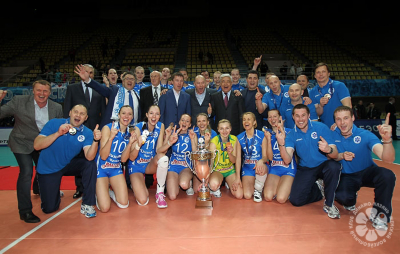 After winning the final game it was time to get on the plane back to the States. Talk about the best feeling in the world….winning a great match and jumping on a plane back home to see your family after being away for about five months! :) I was all smiles and my husband was along for the ride. It was such a great experience and I'm excited to be able to share it with our future children. I did not have much time to spend at home because it was time to start training with the National team. It is always nice to see everyone at home—even if just for a short time—but it was time to get back to work.
I have been dreaming about this summer my entire life and I can't believe it's already here. We have been training hard for the past month and half, gearing up for our first tournament of the season, the World Grand Prix. This year we will be traveling to Dominican Republic, Brazil, Thailand, and the finals will be in China. After Grand Prix they will announce the 12 that will be representing Team USA in the 2012 Olympic Games. Seems strange that I will know within the next month or so whether or not I will be in London for the Olympics. It gives me chills every time I think about it.
Dream Big & Never Settle.
Jordan