Volleyball Magazine has created their 2010 Shoe Review as part of their latest issue. Mizuno crushed the competition in Volleyball Magazine's 2010 Shoe Review by taking home three out of the five awards, including the shoe with Best Traction, Best Shock Absorption, and Best All-Around Comfort. The three high performance Mizuno volleyball shoes that are featured in the review are the Wave Tornado 5, Wave Rally, and the Wave Lightning 6.
Here is what Volleyball had to say about the Mizuno Wave Tornado 5:
Best Traction
"New to the indoor market this year, the Wave Tornado 5 disperses impact uniformly over the length of the foot, thus providing a high level of cushioning. This advanced technology also resists overpronation, therefore relieving stress on the ankle and knee joints. In addition to an enhanced outsole rubber for better traction and AIR Mesh for enhanced breathability, this indoor shoe combines several of the most advanced technologies into one superior sneaker."
Wear-tester comments:
"One thing I noticed right off the bat is the strong traction this shoe had on the court. I felt very confident I wouldn't slip or lose my footing. I noticed that I needed a size up, so this pair may tend to run a little small."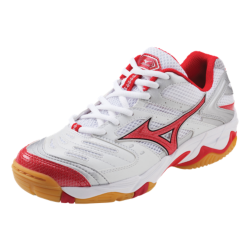 Here is what Volleyball Magazine had to say about the Mizuno Wave Rally:
Best Shock Absorption
"Also new this year, Mizuno's lightweight Wave Rally volleyball shoe boasts rubber Wave construction technology that uniformly disperses shock throughout the entire midsole, providing the ultimate in cushioning and support for your feet, ankles, and knees. Mesh uppers offer breathability to keep feet dry as well."
Wear-tester comments:
"This shoe is the ultimate shock absorber, so if landing softly on your feet is the last thing you want on your mind during a spike, these shoes are for you. Although I wear a size 8, these shoes are also one of the few available in a size 5, which is a plus. And speaking of pluses, the price can't be beat."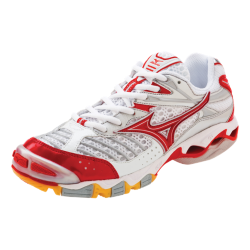 Here is what Volleyball had to say about the Mizuno Wave Lightning 6:
Best All-Around Comfort
"This year's new Wave Lightning 6 offers up a fresh look and new design to the ever-popular line of Mizuno Wave Lightning volleyball shoes. Mizuno Wave technology is like none other, offering superior cushioning and comfort for the midsole, and the VS-1 heel unit absorbs shock on impact.
Available in nine colors."
Wear-tester comments:
"Right out of the box, comfort was what struck me as unique about these shoes. Running or walking, on the court or off-no blisters, no hot spots, nothing. They're stable, offer great traction, and mesh uppers are breathable, which keep your feet cool. Plus, we dig the black."