It's playoff time here in Poland!! We just finished the semifinals against a team called Dabrowa. The series was best 3 out of 5. We tied the series 2-2 and played the fifth match at home. It was a crazy match. We came out really strong in the first set and killed them, they came back and won the next two sets. They were close but they came out on top. The tide had turned, a lot!! We had to keep the hopes of getting to the finals, so although we were down in the fourth, we battled back and made it go to the fifth set. We were optimistic until it was 4-8 at the side change. Then we knew we were in for a fight. We battled back but it seemed to late because we were still down 10-13 - but then we found some serious inner strength and came back to win 15-13. It was crazy!! We were in shock a little bit, extremely tired, but so very excited!!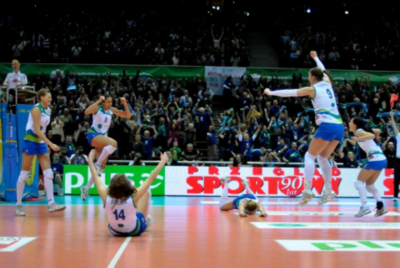 Our 15-13 win in the seminfinals!
We're moving on to the finals now against, Muszyna, the #1 team. We are #2 so it should be another battle. We lost to them the last time we played them, but we think that we've done some serious growing as a team so we're hopeful that things will go differently this time around.
I'm also very excited because my mom is coming to see the finals! She'll get to see where I've been living and what I've been up to these last couple months. I'm very excited to show her our city and for her to get to see our team play!! I can't wait for that. First things first though, we have two matches away on Monday and Tuesday, then a week in-between, then we come back home to play another two, depending on how the series starts off.
This is what overseas volleyball is all about. Playing in competitive leagues where you learn a lot about yourself and your interactions with teammates. I think this team has grown and so have I. There's still so much left to learn, but I'm really enjoying doing it!!
~Alisha