Karch Kiraly Named U.S. Women's National Volleyball Team Head Coach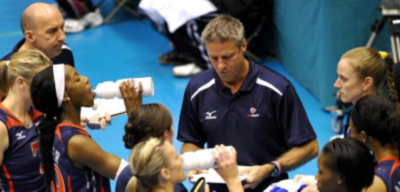 ANAHEIM, Calif. (Sept. 11, 2012) – Karch Kiraly, a legendary volleyball player in the indoor and beach disciplines who turned to coaching as an assistant for the U.S. Women's National Volleyball Team that earned the silver medal at the recent 2012 Olympic Games, has been named the program's head coach for the next Olympic Games quadrennial culminating at the 2016 Rio De Janeiro Games, as announced by USA Volleyball Chief Executive Officer Doug Beal on Tuesday.
"I have revered representing the USA and wearing the Red, White and Blue ever since my first experience with the Junior National Team at 16 years old," Kiraly said. "It is a tremendous honor to be asked to lead such a powerful volleyball program, and I am thrilled to be able to carry forward the effort expended by this hard-working and talented group of athletes – an effort led by my mentor and friend, previous (U.S. Women's National Volleyball Team) Head Coach Hugh McCutcheon, and his staff."
"It is hard for me to define how excited I am that Karch has agreed to become our next U.S. Women's National Volleyball Team coach," Beal said. "I have often heard him compared to Michael Jordan as a dominant performer and personality. It is extremely rare that someone who was so talented and successful on the court can successfully make the transition to that same level in the coaching world. Karch is unique and USA Volleyball is fortunate and lucky to have him to continue the leadership of our National Team program."
Kiraly, 51, joined the coaching staff in 2009 under the direction of McCutcheon, who has assumed the head women's volleyball coach position at the University of Minnesota.
"I could not be happier with USA Volleyball's decision to select Karch as the head coach of the USA Women's National Volleyball Team," McCutcheon said of his successor. "He's a great man and a wonderful volleyball coach - this is a fantastic hire."