Mizuno Craze
by Mizuno USA on February 9, 2011
Mizuno has launched a new slow pitch bat series, the Craze. This revolutionary new bat from Mizuno provides the slow pitch athlete with one of the most powerful, durable, and affordable bats on the market. The Craze slow pitch bat is available in both ASA and USSSA models. Both the Craze and Craze Xtreme (USSSA model) bats have a 13 inch barrel.


Craze bats are uniquely made with Black Array Carbon, a state of the art carbon fiber. Black Array Carbon provides the perfect balance of durability and feel, while offering explosive distance and ultimate control. All Craze bats are hand rolled in their initial development stage, before they are machine rolled in order for a smooth finish. A new angled seaming process eliminates any edge inconsistencies in the bat, which will considerably reduce any soft spots or cracks, denying ultimate performance.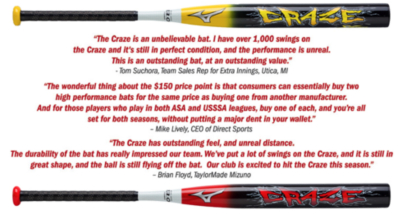 During the research and development process of the Craze durability tests were conducted at Mizuno's revolutionary Sozo™ Studios. Craze bats were repeatedly tested, simulating the most extreme game-like conditions. The durability of the Craze proved to be extremely high, as the Craze bats show dramatic improvement from previous Mizuno models before any signs of damage occurred.


Mizuno has set the suggested retail price of the new Craze at $150.00, making it one of the best values on the slow pitch bat market. All Craze bats are non-warranty. Craze and Craze Xtreme slow pitch bats are 34 inches in length, and are available in four different weights (26oz., 27oz., 28oz., and 29oz.). The Craze ASA model is red and black, and the Craze Xtreme is yellow and black.