Product Features
What makes Wave Rider 15 different?

By combining the best qualities of every Wave Rider that came before it, Mizuno has created its masterpiece with the Wave Rider 15. While the pendulum in running may swing from one extreme to another, the genius of the Wave Rider 15 is found through its harmonious balance of a lightweight feel, wrapped-to-foot fit and exquisitely smooth ride, ultimately producing a brilliant running experience.

Albert Einstein believed that everything should be made as simple as possible, but not simpler. Perhaps he had a vision of the Wave Rider 15 – simple in form, yet based on the innovative technologies that elevate Mizuno products above the rest.

Mizuno Wave®

The leading footwear technology that combines cushioning and stability, two distinctly different, yet necessary elements in running shoes.

While the running world labors over the pros and cons of lightweight, cushioning and stability, Mizuno labors to strike the perfect balance...a harmonious marriage of all three, achieved through Mizuno Wave Technology®.

SmoothRide™

Minimizes the rapid acceleration and deceleration of the foot during transition, creating the smoothest ride possible.

Mizuno has taken SmoothRide Engineering™ a step further with the Wave Rider 15. Forefoot Flex Controllers allow optimal flex at toe-off and by moving the heel contact point a bit further forward on the sole it smooths out heel contact producing a more fluid ride.

Dynamotion Fit™

Relives the stress the foot naturally places on footwear, eliminating distortion for the perfect fit.

A running shoe should work with the foot, not against it. Dynamotion Fit™ achieves this by allowing the upper to move in harmony with the foot through the entire running gait - from heel strike through toe-off. With Dynamotion Fit™ a runner and shoe literally become one.
Product Details
| | |
| --- | --- |
| Weight | 8.7 oz |
| Colors | White/Dark Shadow/Lavender (0098) |
| Sizes | Narrow (2A): 6-12 |
| Style | 410461 |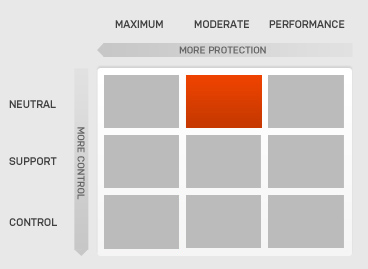 | | |
| --- | --- |
| Running - Moderate Neutral | harmonious ride, normal pronation |

Inspired by nature, Wave is the industry's most effective midsole technology. Wave's unique shape dissipates impact forces away from the foot for a smoother, more cushioned feel on every step.

Unique approach to the sole of the shoe designed to create a smooth, rocking-chair-like transition from heel to toe on every step.

Combination of shoe technologies that create an upper that moves with your foot seamlessly throughout your stride, eliminating stress points and bunching for a more comfortable run.
AP+
AP+ improves the quality of the running experience by offering increased rebound and a bouncier feeling run while maintaining the light weight performance you've come to expect from Mizuno.
Find your fit online
Try Mizuno's Precision Fit system to help you find the running shoe that works in best harmony with your body.
Have a Question?
From warranty info to tips on product care and more, get answers to your product questions.