Mizuno's Wave Ronin 2 Featured in Running Times Lightweight Shoe Review
by Rod Foley on October 1, 2010
The October issue of Running Times magazine features the Mizuno Wave Ronin 2 running shoe as part of its lightweight running shoe review.
Here is what Running Times has to say about the Mizuno Wave Ronin 2 running shoe:
"Perhaps somewhere between a lightweight training flat and a minimalist racing flat, the Ronin 2 running shoe is a fast-and-light shoe with significant heel cushioning. In other words, it runs like a racer but feels more like a cushioned trainer. It features Mizuno's energy-transferring Wave technology in the heel, which is a little higher off the ground than some similar models, but the shoe has only a 9mm heel-toe ramp angle, so the heel doesn't get in the way of an efficient stride.
And while the Ronin 2 is capable of running shorter and faster (including long intervals), our testers found it excelled on long training runs, and as a half marathon/marathon racer. The fit is snug in the heel and midfoot, but comfortably relaxed in the toe box. Like other shoes in this category, the outsole has an array of semi-firm knobby lugs for optimal traction."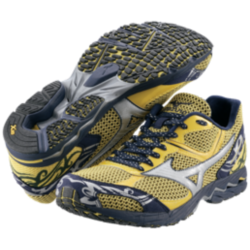 See the Mizuno Wave Ronin 2 running shoe for men >