Mizuno Wave Cabrakan Trail Running Shoe Featured in Running Network's 2010 Trail Shoe Review
by Rod Foley on November 19, 2010
The Running Network recently published their 2010 trail shoe review, in which the Mizuno Wave Cabrakan trail running shoe was featured. The write-up on the Wave Cabrakan from Running Network feature writer Cregg Weinmann was especially positive, as were the tester comments.
Here is what the Running Network had to say about the Mizuno Wave Cabrakan trail running shoe:
"Named for the Meso-American deity of earthquakes, the Cabrakan shakes up the Mizuno line, settling in as a quality, high-end trail offering. The upper is a water-resistant mesh with a protective rand in the vamp (not the heel), and stretchy elastic snugs the internal fit of the shoe. Overlays provide support and protection, with a high-friction toe bumper leading the way. The midsole shares the same double wave as the Wave Inspire running shoe, along with a good measure of medial support, decent flexibility, and responsive cushioning. The outersole is a multi-directional, deeply-lugged design which has a confidence-building grip for the steep stuff, though it also does a good job on pavement."
Here are the wear-tester comments from the Running Network on the Mizuno Wave Cabrakan trail running shoe:
"Comfortable fit with plenty of room for toes to breath. Snug around the heel for good control and had very good traction and comfort."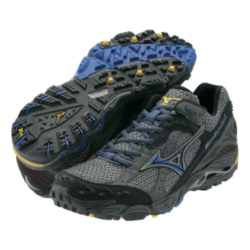 View the Mizuno Wave Cabrakan trail running shoe for men >
View the Mizuno Wave Cabrakan trail running shoe for women >