MP-H5 Irons
new!
stock price starting at:
USD

$

999.99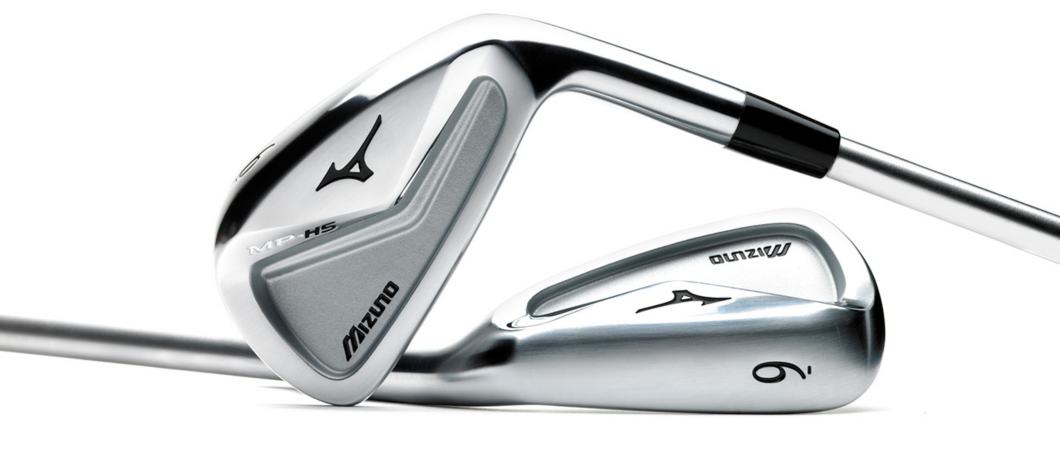 "The MP-H5 will suit players who have grown up on traditional irons, but don't want to be left behind on distance and technology. Launch Forgiveness is one of the hottest trends on the professional tours, and now you can add it to your bag as well."
Chuck Couch – VP of Product Management
Design Details
A NEW TYPE OF PLAYERS IRON FOR AGGRESSIVE COURSE LAYOUTS
The 'Hollow Construction' concept utilized in the MP-H5 is a response to the demands of modern course layouts – with longer approaches to tighter pin positions and firmer greens. The MP-H5 was designed to deliver a higher, controllable ball flight and steeper, soft landings to attack these challenging pin positions.
Hollow Construction delivers a deeper Center of Gravity (COG) throughout the set for a high launch with controllable spin. The MP-H5 achieves this "launch forgiveness" while maintaining a thin top line and minimal offset, giving the better player total shot-making control.
Tech Spec
1 Through 6 Iron: Full hollow design with high COR maraging steel face for easy launch and long, consistent distance.
7 Through PW: Half hollow 1025E Grain Flow Forged design for easy launch and soft, solid, consistent feel.
Aggressive Set Flow: High foregiveness long irons to compact short irons.
The New MP-H5 Launch Forgiveness

Performance Fitting System

Mizuno Golf Custom Manufacturing
---
Specification
| | | | | | | | | | | |
| --- | --- | --- | --- | --- | --- | --- | --- | --- | --- | --- |
| Club # | 1 | 2 | 3 | 4 | 5 | 6 | 7 | 8 | 9 | PW |
| LH | N/A | N/A | N/A | N/A | N/A | N/A | N/A | N/A | N/A | N/A |
| Loft º | 16 | 18 | 21º | 24º | 27º | 30º | 34º | 38º | 42º | 46º |
| Lie º | 58.5º | 59.0º | 59.5º | 60.0º | 60.5º | 61.0º | 61.5º | 62.0º | 62.5º | 63.0º |
| Off Set " | 0.154" | 0.150" | 0.146" | 0.142" | 0.134" | 0.126" | 0.122" | 0.118" | 0.110" | 0.102" |
| Bounce º | 0º | 0º | 0º | 0.5º | 1º | 2º | 3º | 3º | 4º | 5º |
| Length " | 39.75" | 39.25" | 38.75" | 38.25" | 37.75" | 37.25" | 36.75" | 36.25" | 35.75" | 35.50" |
Stock Shafts
See Shaft Specifications

Custom Shafts
See Shaft Specifications
OROCHI - R,A,L,LL (GRAPHITE)

OROCHI TOUR SPEC - R,S (GRAPHITE)

TRUE TEMPER XP 105 - R300, S300 (STEEL)

TRUE TEMPER XP 115 - R300,S300 (STEEL)

TRUE TEMPER DYNAMIC GOLD - R300, S300, X100 (STEEL)

TRUE TEMPER DYNAMIC GOLD SUPERLITE - R300, S300 (STEEL)
PROJECT X - 5.0, 5.5, 6.0, 6.5 (STEEL)

TRUE TEMPER XP 105 WEDGE FLEX (STEEL)

TRUE TEMPER DG SPINNER WEDGE (STEEL)

NIPPON NS PRO 1150 - R, S



FST KBS C-Taper LITE - R,S,X

Stock Grips
See Grip Specifications
Mizuno M-31 360 .58 Round

Custom Grips
See Grip Specifications
Mizuno M-31 360 .58 Round


Mizuno M-31 360 .62 Ladies


Tour Velvet Midsize - 0.60 Round

Tour Velvet Jumbo - 0.60 Round

Tour Velvet Black Full Cord - 0.58 Round

Tour Wrap 2G - 0.60 Round

Tour Wrap 2G Jumbo - 0.60 Round


Tour Wrap 2G White - 0.60 Round

Multicompound BL/BK - 0.58 Round

Multicompound BL/BK - 0.58 Ribbed

Multicompound RD/BK - 0.60 Round

Multicompound WH/BK - 0.60 Round

Multicompound WH/BK - 0.60 Round, Midsize

Multicompound YW/BK - 0.60 Round

Multicompound Whiteout RD - 0.60 Round

Multicompound Whiteout BL - 0.60 Round

Multicompound Whiteout BK - 0.60 Round


Winn Mizuno Lady Excel 360


R.E.L. 3GEN "Mizuno" Blue - 0.60 Round

R.E.L. 3GEN Gray - 0.60 Round

R.E.L. 3GEN White - 0.60 Round

R.E.L. 3GEN Red - 0.60 Round

R.E.L. 3GEN Orange - 0.60 Round