MP-54 Iron
new!
stock price starting at:
USD

$

999.99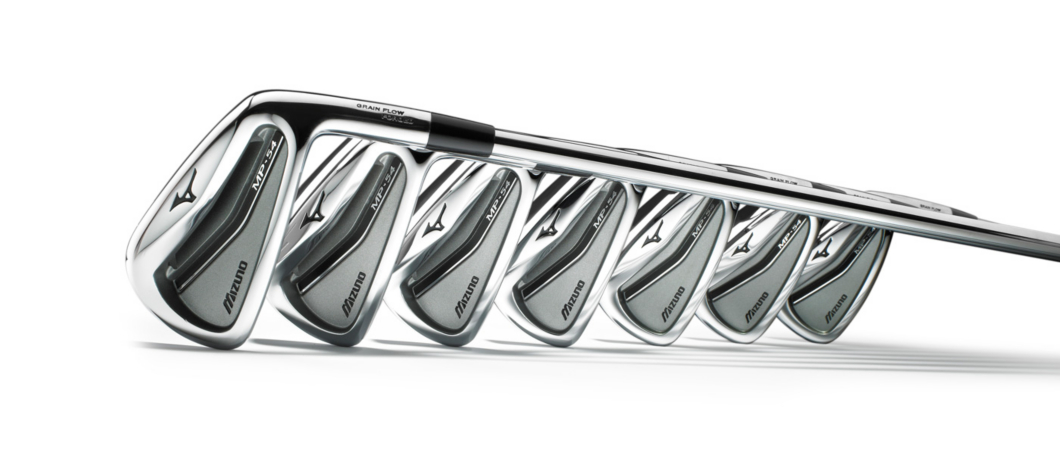 "The MP-54 is for players who have grown up on forgiving golf equipment – but want a little bit more from their shotmaking. It still has all the forgiveness most modern players are used to – but with so much more feel and workability. It's still MP, still traditional – but more aggressive."
- David Llewellyn, Golf Club R&D Manager
Design Details
The MP-54 is a thick, powerful Grain Flow Forged iron crafted to awaken the shotmaker in players needing just a little forgiveness.
A deep Milled Pocket Cavity (3-7 iron) delivers stability on off-center strikes, while a heavily bevelled sole ensures cleaner turf interaction and the workability to take your ball striking to the next level.
The pure feel of Mizuno's one piece Grain Flow Forged 1025E Mild Carbon steel construction is heightened through a Step Muscle design that retains thickness behind impact.
Tech Spec
Step Muscle Design: Creates additional thickness behind impact for solid feel.
Grain Flow Forged: From a single 1025E Pure Select mild carbon steel billet.
Milled Pocket Cavity (3-7): Off center stability, higher launch, and a steep landing angle.
Solid Muscle Design (8-PW): Enhanced feel and maneuverability.
Perimeter Grind: Reduces topline appearance and sole width.
Custom Set Make Ups: Available in mixed/combo sets or with MP-H4 long iron alternative.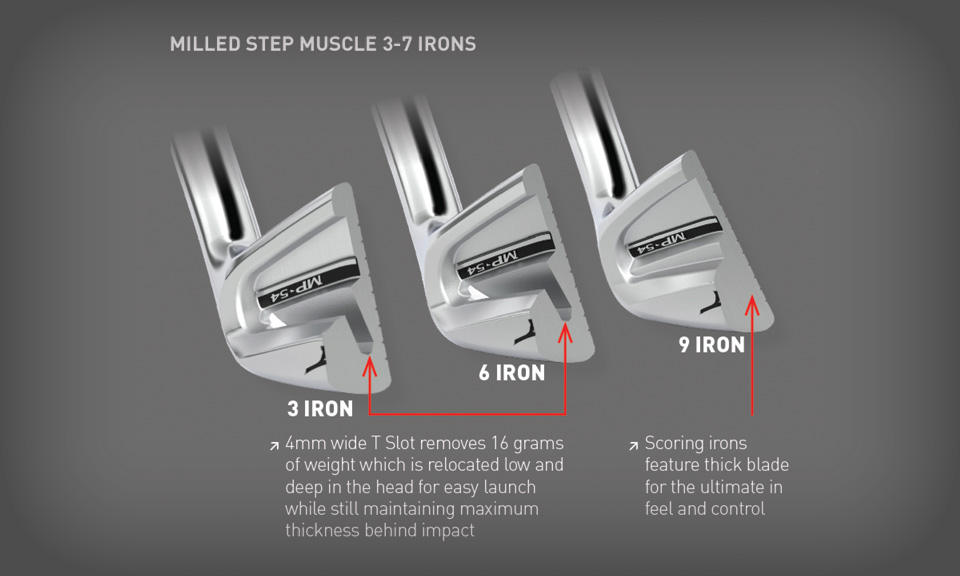 MP-54 Irons: Step Up Your Shotmaking

Performance Fitting System

Mizuno Golf Custom Manufacturing

The Moment with Luke Donald
---
Specification
| | | | | | | | | |
| --- | --- | --- | --- | --- | --- | --- | --- | --- |
| Club # | 3 | 4 | 5 | 6 | 7 | 8 | 9 | PW |
| LH | Yes | Yes | Yes | Yes | Yes | Yes | Yes | Yes |
| Loft º | 21º | 24º | 27º | 30º | 34º | 38º | 42º | 46º |
| Lie º | 59.5º | 60.0º | 60.5º | 61.0º | 61.5º | 62.0º | 62.5º | 63.0º |
| Off Set " | 0.142" | 0.134" | 0.134" | 0.130" | 0.126" | 0.126" | 0.114" | 0.102" |
| Bounce º | 1º | 1º | 2º | 2º | 3º | 3º | 4º | 5º |
| Length " | 38.75" | 38.25" | 37.75" | 37.25" | 36.75" | 36.25" | 35.75" | 35.50" |
Standard Stock SKUs
210567 RH (3-PW) DG STEEL
210568 LH (3-PW) DG STEEL
Stock Shafts
See Shaft Specifications
TRUE TEMPER DYNAMIC GOLD - S300 (STEEL)

Custom Shafts
See Shaft Specifications
TRUE TEMPER XP 105 - R300, S300 (STEEL)

PROJECT X GRAPHITE - 4.5, 5.0, 5.5

TRUE TEMPER DYNALITE GOLD XP - R300, S300

TRUE TEMPER DYNAMIC GOLD - R300, S300, X100 (STEEL)

TRUE TEMPER DYNAMIC GOLD SUPERLITE - R300, S300 (STEEL)
PROJECT X - 5.0, 5.5, 6.0, 6.5 (STEEL)


NIPPON NS PRO 1150 - R, S



Stock Grips
See Grip Specifications

Custom Grips
See Grip Specifications

Tour Velvet Midsize - 0.60 Round

Tour Velvet Jumbo - 0.60 Round

Tour Velvet White Full Cord - 0.60 Round

Tour Velvet Black Full Cord - 0.58 Round


Tour Wrap 2G - 0.60 Round

Tour Wrap 2G Jumbo - 0.60 Round

Tour Wrap 2G White - 0.60 Round

Multicompound BL/BK - 0.58 Round

Multicompound RD/BK - 0.60 Round

Multicompound WH/BK - 0.60 Round

Multicompound WH/BK Midsize - 0.60 Round

Multicompound YW/BK - 0.60 Round

Multicompound Whiteout RD - 0.60 Round

Multicompound Whiteout BL - 0.60 Round

Multicompound Whiteout BK - 0.60 Round


DriTac Women's - 0.60 Round

DSI Black Women's - 0.60 Round

Winn Mizuno Lady Excel 360


R.E.L. 3GEN "Mizuno" Blue - 0.60 Round

R.E.L. 3GEN Gray - 0.60 Round

R.E.L. 3GEN White - 0.60 Round

R.E.L. 3GEN Red - 0.60 Round

R.E.L. 3GEN Orange - 0.60 Round