MP-15 Irons
new!
stock price starting at:
USD

$

999.99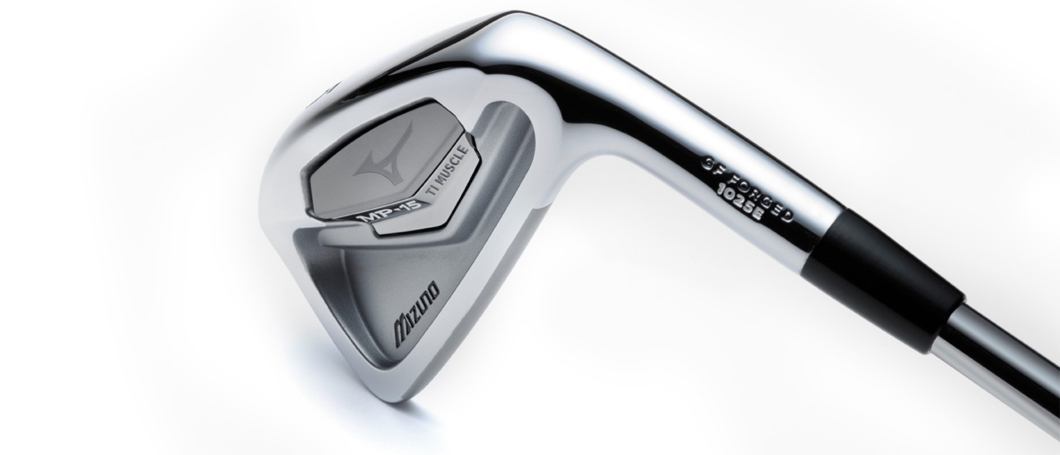 FORGIVENESS WITHOUT SACRIFICE

"The MP-15 blends the best elements of two great tour irons – the MP-59 and MP-64. A really compact player's iron, but with stability from off center strikes to provide the player forgiveness when they need it."
Tetsuya Kanayama – Senior R&D Team Member
Design Details
TI MUSCLE INNOVATION
The MP-15 embodies the definitive balance of tradition and technology for today's better player.
At address the MP-15 appears every inch the classic Mizuno MP iron – compact with clean lines, designed to enhance both feel and workability. Forged directly inside the 1025E steel framework is a re-engineered Titanium Muscle insert, which maintains thickness behind impact for solid feel, while allowing weight to be shifted to the perimeter to provide "full cavity" forgiveness.
The MP-15 is the perfect blend of classic looks and high-tech forgiveness.
Tech Spec
Ti Muscle: Delivers increased forgiveness with solid feel.
Grain Flow Forged 1025E "Pure Select" mild carbon steel and pure titanium combine to provide the ultimate soft, solid and consistent feel.
Tour Proven Sole and Compact Head: Deliver consistent turf interaction for enhanced control and workability.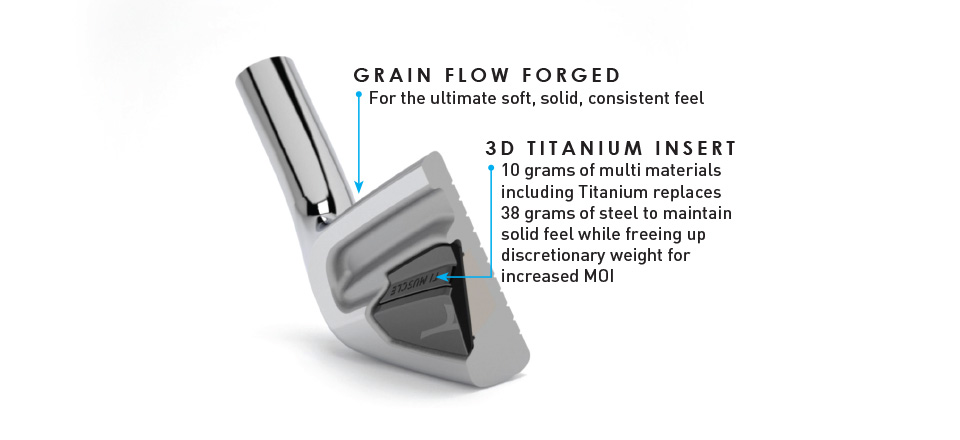 Mizuno MP-15 irons with Ti Muscle

Performance Fitting System

Mizuno Golf Custom Manufacturing

The Moment with Luke Donald
---
Specification
| | | | | | | | | |
| --- | --- | --- | --- | --- | --- | --- | --- | --- |
| Club # | 3 | 4 | 5 | 6 | 7 | 8 | 9 | PW |
| LH | N/A | N/A | N/A | N/A | N/A | N/A | N/A | N/A |
| Loft º | 21º | 24º | 27º | 30º | 34º | 38º | 42º | 46º |
| Lie º | 59.5º | 60.0º | 60.5º | 61.0º | 61.5º | 62.0º | 62.5º | 63.0º |
| Off Set " | 0.130" | 0.130" | 0.130" | 0.120" | 0.120" | 0.110" | 0.110" | 0.110" |
| Bounce º | 2º | 2º | 2º | 3º | 3º | 4º | 5º | 6º |
| Length " | 38.75" | 38.25" | 37.75" | 37.25" | 36.75" | 36.25" | 35.75" | 35.50" |
Stock Shafts
See Shaft Specifications
TRUE TEMPER DYNAMIC GOLD - S300 (STEEL)

Custom Shafts
See Shaft Specifications
OROCHI - R,A,L,LL (GRAPHITE)

OROCHI TOUR SPEC - R,S (GRAPHITE)

TRUE TEMPER XP 105 - R300, S300 (STEEL)

TRUE TEMPER XP 115 - R300,S300 (STEEL)

TRUE TEMPER DYNAMIC GOLD - R300, S300, X100 (STEEL)

TRUE TEMPER DYNAMIC GOLD SUPERLITE - R300, S300 (STEEL)
PROJECT X - 5.0, 5.5, 6.0, 6.5 (STEEL)

TRUE TEMPER XP 105 WEDGE FLEX (STEEL)

TRUE TEMPER DG SPINNER WEDGE (STEEL)

NIPPON NS PRO 1150 - R, S



FST KBS C-Taper LITE - R,S,X

Stock Grips
See Grip Specifications
Mizuno M-31 360 .58 Round

Custom Grips
See Grip Specifications
Mizuno M-31 360 .58 Round


Mizuno M-31 360 .62 Ladies


Tour Velvet Midsize - 0.60 Round

Tour Velvet Jumbo - 0.60 Round

Tour Velvet Black Full Cord - 0.58 Round

Tour Wrap 2G - 0.60 Round

Tour Wrap 2G Jumbo - 0.60 Round


Tour Wrap 2G White - 0.60 Round

Multicompound BL/BK - 0.58 Round

Multicompound BL/BK - 0.58 Ribbed

Multicompound RD/BK - 0.60 Round

Multicompound WH/BK - 0.60 Round

Multicompound WH/BK - 0.60 Round, Midsize

Multicompound YW/BK - 0.60 Round

Multicompound Whiteout RD - 0.60 Round

Multicompound Whiteout BL - 0.60 Round

Multicompound Whiteout BK - 0.60 Round


Winn Mizuno Lady Excel 360


R.E.L. 3GEN "Mizuno" Blue - 0.60 Round

R.E.L. 3GEN Gray - 0.60 Round

R.E.L. 3GEN White - 0.60 Round

R.E.L. 3GEN Red - 0.60 Round

R.E.L. 3GEN Orange - 0.60 Round