"The JPX EZ hybrid is such an addictive club – straight and effortlessly long. With the deeper face its much more effective from the tee than any our previous hybrids. It's going to endanger of lot of long par three's."
David Llewellyn – Golf Club R&D Manager
Design Details
Available November 2013 - Check with your local Mizuno Golf retailer for availability!
Your odds just improved with the new, extremely versatile JPX EZ hybrids.
A vastly larger, deep club-head demands its fair share of tee shots – while its extended, low profile back creates the deep weighting needed for steep, fast stopping landing angles. Crisp, clean ball striking is promoted through a face forward design that allows the leading edge to slide between the ball and turf.
The JPX EZ's sheer size is backed up with a Flex Face design which maintains high ball speeds and consistent distances, even on contact high or low on the clubface.
Attack the course. Take your hybrid play to a new level with the JPX EZ.
Tech Spec
HOT METAL Face Design: Ultra-thin 1770 maraging steel face for solid feel and explosive distance.
Large 127cc clubhead: With deeper face for aggression from the tee.
Face Forward Design: Assists leading edge under ball for crisp contact.
Flex Face Design: Increases effective rebound area for increased distance
Harmonic Impact Technology: Tuned sound for a powerful, solid feel at impact.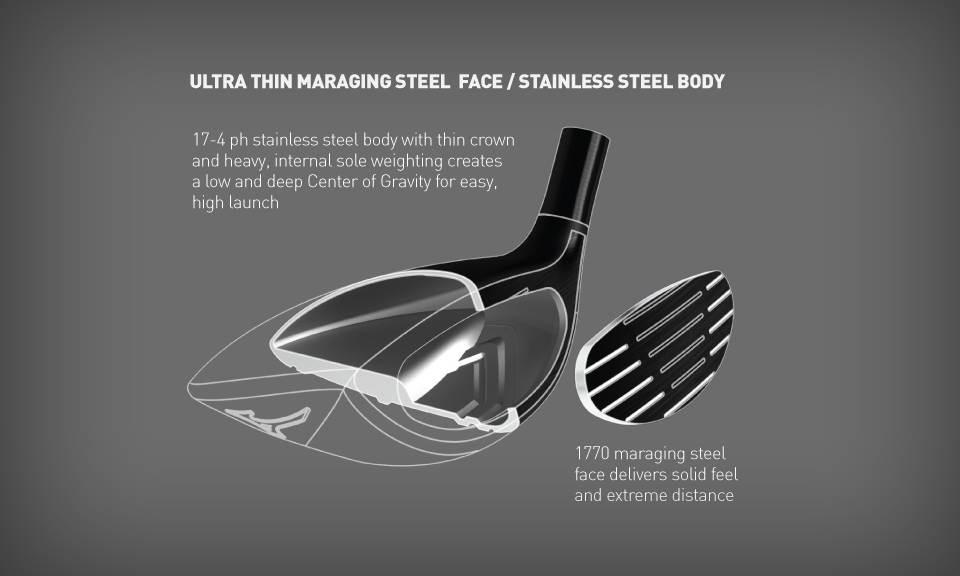 ---
Specification
| | | | | |
| --- | --- | --- | --- | --- |
| Club # | 2 | 3 | 4 | 5 |
| LH | N/A | N/A | N/A | N/A |
| Loft º | 16.0º | 19.0º | 22.0º | 25.0º |
| Lie º | 59.0º | 59.5º | 60.0º | 60.5º |
| Swing | D2 | D2 | D2 | D2 |
| Face Angle | Square | Square | Square | Square |
| Length " | 41.00" | 40.25" | 39.50" | 38.75" |
Stock Shafts
See Shaft Specifications
Fujikura Orochi Black Eye Hybrid -
R, S

Custom Shafts
See Shaft Specifications
Fujikura Orochi Black Eye Hybrid -
LL, L, R, S

FUJIKURA OROCHI RED EYE HYBRID -
R, S, X

Stock Grips
See Grip Specifications
TOUR VELVET 360 -
0.60 Round

Custom Grips
See Grip Specifications

Tour Velvet Midsize - 0.60 Round

Tour Velvet Jumbo - 0.60 Round

Tour Velvet White Full Cord - 0.60 Round

Tour Velvet Black Full Cord - 0.58 Round


Tour Wrap 2G - 0.60 Round

Tour Wrap 2G Jumbo - 0.60 Round

Tour Wrap 2G White - 0.60 Round

Multicompound BL/BK - 0.58 Round

Multicompound RD/BK - 0.60 Round

Multicompound WH/BK - 0.60 Round

Multicompound WH/BK - 0.60 Round, Midsize

Multicompound YW/BK - 0.60 Round

Multicompound Whiteout RD - 0.60 Round

Multicompound Whiteout BL - 0.60 Round

Multicompound Whiteout BK - 0.60 Round


DriTac Women's - 0.60 Round

DSI Black Women's - 0.60 Round

Winn Mizuno Lady Excel 360


R.E.L. 3GEN "Mizuno" Blue - 0.60 Round

R.E.L. 3GEN Gray - 0.60 Round

R.E.L. 3GEN White - 0.60 Round

R.E.L. 3GEN Red - 0.60 Round

R.E.L. 3GEN Orange - 0.60 Round