Product Features
Available November 2013 - Check with your local Mizuno Golf retailer for availability!

Your odds just improved with the new, extremely versatile JPX EZ hybrids.

A vastly larger, deep club-head demands its fair share of tee shots – while its extended, low profile back creates the deep weighting needed for steep, fast stopping landing angles. Crisp, clean ball striking is promoted through a face forward design that allows the leading edge to slide between the ball and turf.

The JPX EZ's sheer size is backed up with a Flex Face design which maintains high ball speeds and consistent distances, even on contact high or low on the clubface.

Attack the course. Take your hybrid play to a new level with the JPX EZ.
Tech Diagram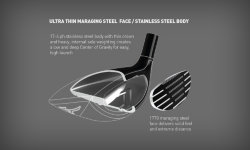 Have a Question?
From warranty info to tips on product care and more, get answers to your product questions.