Hybrid Designed Set Make-Up for a High, Easy Launch from Anywhere on the Course
JPX-800HD - High Distance

Mizuno Performance Fitting System

Mizuno Golf Custom Manufacturing
---

Excellent, one of the easiest to control.
- Hot List Player Comment
Design Details
Strengthening the already successful JPX iron line, Mizuno introduces the JPX-800HD (High Distance) super game improvement iron set. This iron set utilizes our distance generating JPX technologies of Hot Metal and MAX COR to deliver the explosive distance that all players crave. Maximum forgiveness and an easy, high launch and ball flight are achieved through an innovative set make up which includes Mizuno's new Hybrid DLR (Direct Long iron Replacement), the JPX FLI-HI, in the #4 and #5. These Hybrid DLR's are combined with our lowest and deepest COG iron design ever in the #6-GW, to create a set make-up that will help players succeed more often on the golf course.
In addition, to better match the miss-hit pattern of super game improvement players, the JPX-800HD irons feature strategic low-heel, high-toe weighting to deliver our largest effective sweet area ever.
These irons will help you hit the ball farther, straighter, and higher so that you score better.
Tech Spec
MAX COR pocket construction and multi-thickness Hot Metal face deliver the highest allowable COR for amazing distance.
Super game improvement set make up.
Max MOI creates the most forgiving iron in Mizuno's line-up.
Low-heel, high-toe weighting for more effective sweet area location.
Scientifically designed Harmonic Impact Technology (H.I.T.) provides superior feel within the Super Game Improvement category.
Multi-material electroform badge to enhance feel and deliver aggressive styling.
Wide C grind sole for higher launch and maximum playability.
Two toned nickel chrome plated for elegant and durable finish.
Modified U-grooves, which conform to the condition of competition, produce the ideal spin rate for maximum playability.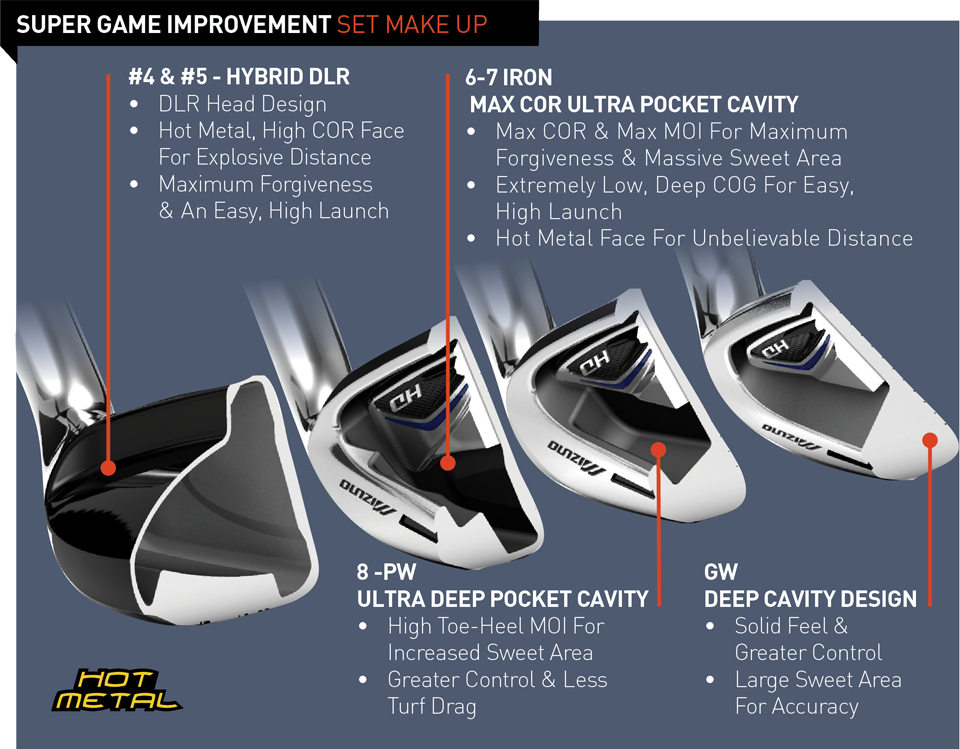 Specification
| | | | | | | | | |
| --- | --- | --- | --- | --- | --- | --- | --- | --- |
| Club # | 4 | 5 | 6 | 7 | 8 | 9 | PW | GW |
| LH | N/A | N/A | N/A | N/A | N/A | N/A | N/A | N/A |
| Loft º | 22º | 25º | 28º | 32º | 36º | 40º | 44º | 49º |
| Lie º | 60.0º | 60.5º | 61.0º | 61.5º | 62.0º | 62.5º | 63.0º | 63.0º |
| Off Set " | N/A | N/A | 0.240" | 0.230" | 0.220" | 0.201" | 0.181" | 0.161" |
| Bounce º | N/A | N/A | 0" | 1" | 2" | 3" | 4" | 5" |
| Length " | 38.25" | 37.75" | 37.25" | 36.75" | 36.25" | 35.75" | 35.50" | 35.25" |
TRADITIONAL JPX-800HD LONG IRONS - AVAILABLE IN CUSTOM ONLY
| | | |
| --- | --- | --- |
| Club # | 4 | 5 |
| LH | N/A | N/A |
| Loft º | 22º | 25º |
| Lie º | 60.0º | 60.5º |
| Off Set " | 0.260" | 0.250" |
| Bounce º | -1.0º | -0.5º |
| Length " | 38.25" | 37.75" |
Standard Stock SKUs
210531 RH (4-GW) Steel
210531 RH (4-GW) Graphite Regular
210531 RH (4-GW) Graphite Ladies
Stock Shafts
See Shaft Specifications
TRUE TEMPER DYNALITE GOLD XP - R300, S300

Custom Shafts
See Shaft Specifications
FUJIKURA OROCHI: LL, L, RL, R, SR, S

MATRIX PROGRAM 130 - R, S

PROJECT X GRAPHITE - 4.5, 5.0, 5.5, 6.0

TRUE TEMPER DYNALITE GOLD XP - R300, S300, X100

TRUE TEMPER DYNAMIC GOLD - R300, S300, X100

TRUE TEMPER DYNAMIC GOLF TOUR ISSUE - S400, X100


TRUE TEMPER DYNAMIC GOLD SUPERLITE - R300, S300
TRUE TEMPER DYNALITE GOLD XP "SENSICORE" - R300, S300

PROJECT X - 5.0, 5.5, 6.0, 6.5

PROJECT X PXi - 5.0, 5.5, 6.0, 6.5




Custom Grips
See Grip Specifications


Tour Velvet White Full Cord - 0.60 Round

Tour Velvet Black Full Cord - 0.58 Round

Tour Velvet Midsize - 0.60 Round

Tour Velvet Jumbo - 0.60 Round

Tour Wrap 2G - 0.60 Round

Tour Wrap 2G Jumbo - 0.60 Round

Tour Wrap 2G White - 0.60 Round

Multicompound BL/BK - 0.58*

Multicompound RD/BK - 0.60 Round

Multicompound WH/BK - 0.60 Round

Multicompound WH/BK - 0.60 Round, Midsize

Multicompound YW/BK - 0.60 Round

Multicompound WH/RD - 0.60 Round

Multicompound WH/BL - 0.60 Round

Multicompound WH/BK - 0.60 Round


DSI Black Women's - 0.60 Round

DriTac Women's - 0.60 Round


R.E.L. 3GEN "Mizuno" Blue - 0.60 Round

R.E.L. 3GEN Gray - 0.60 Round

R.E.L. 3GEN White - 0.60 Round

R.E.L. 3GEN Red - 0.60 Round

R.E.L. 3GEN Orange - 0.60 Round