JPX-850 Power Frame™ Irons
new!
stock price starting at:
USD

$

799.99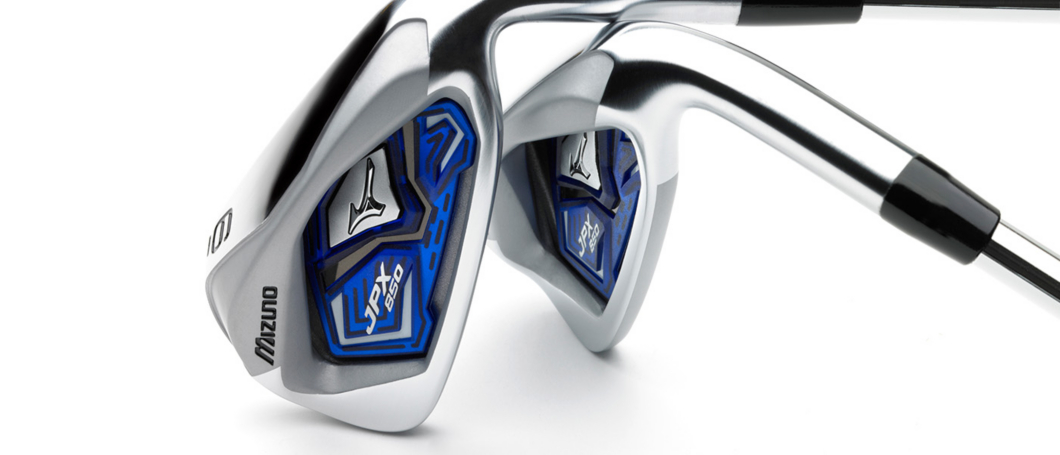 "Simply increasing ball speed is not our goal - making it happen within a manageable head size is the real challenge. With the Power Frame we were able to take ball speeds to a completely different level - all while keeping it hand in hand with a nice feel and a level of workability."
Tetsuya Kanayama – Senior R&D Team Member
Design Details
POWER UP WITH THE LONGEST IRON IN GOLF
The breakthroughs in distance and ball speed of the JPX-850 are achieved through Mizuno's Power Frame™ design, which greatly increases the rebound area of the clubface. In addition, the Power Frame positions weight in the extreme corners of the club head to increase stability on off-center shots, maximizing forgiveness and consistent distance.
Equally as important, the innovative Power Frame design ensures ball speeds are consistently high across the entire clubface and that the high COR is not created at the expense of feel or control. The JPX-850 delivers more distance, with more solid feel than any other iron in the game.
Tech Spec
Power Frame Distance: Increases rebound area for maximum distance.
Power Frame Forgiveness: Weight is strategically placed in the four corner of the cavity to maximize forgiveness.
Dual Relief Zone Sole: Ideal turf interaction for solid ball striking in all course conditions.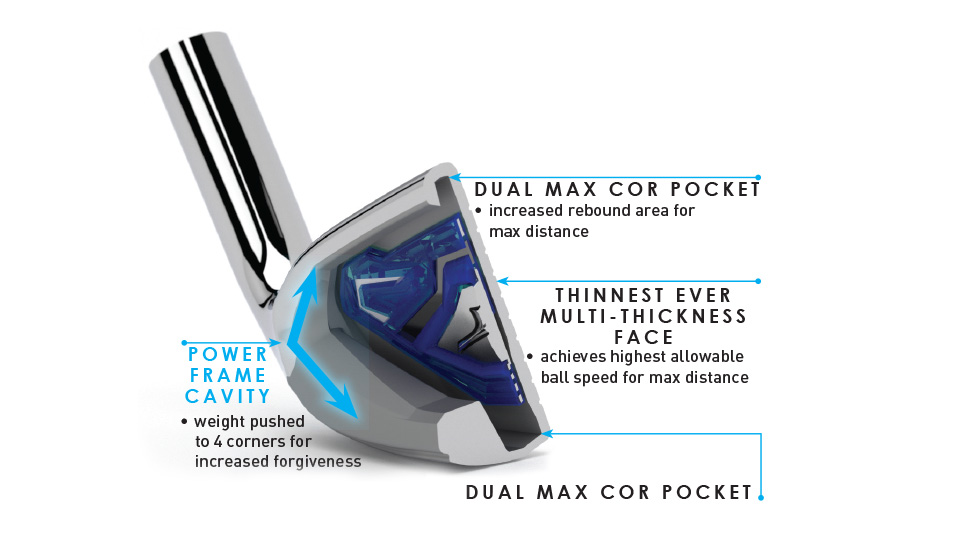 JPX 850 With Powerframe Technology

Performance Fitting System

Mizuno Golf Custom Manufacturing
---
Specification
| | | | | | | | | |
| --- | --- | --- | --- | --- | --- | --- | --- | --- |
| Club # | 4 | 5 | 6 | 7 | 8 | 9 | PW | GW |
| LH | Yes | Yes | Yes | Yes | Yes | Yes | Yes | Yes |
| Loft º | 22º | 25º | 28º | 32º | 36º | 40º | 45º | 50º |
| Lie º | 60.0º | 60.5º | 61.0º | 61.5º | 62.0º | 62.5º | 63.0º | 63.0º |
| Off Set " | 0.230" | 0.210" | 0.190" | 0.180" | 0.170" | 0.150" | 0.130" | 0.130" |
| Bounce º | -0.5º | -0.5º | -0.5º | 1º | 2º | 3º | 4º | 5º |
| Length " | 38.25" | 37.75" | 37.25" | 36.75" | 36.25" | 35.75" | 35.50" | 35.25" |
Standard Stock SKUs
210591 RH (4-GW) STEEL
210592 LH (4-GW) STEEL
210593 RH (4-GW) GRAPHITE [+$100]
Stock Shafts
See Shaft Specifications
TRUE TEMPER XP 105 - R300, S300 (STEEL)


Custom Shafts
See Shaft Specifications
OROCHI - R,A,L,LL (GRAPHITE)

OROCHI TOUR SPEC - R,S (GRAPHITE)

TRUE TEMPER XP 105 - R300, S300 (STEEL)

TRUE TEMPER XP 115 - R300,S300 (STEEL)

TRUE TEMPER DYNAMIC GOLD - R300, S300, X100 (STEEL)

TRUE TEMPER DYNAMIC GOLD SUPERLITE - R300, S300 (STEEL)
PROJECT X - 5.0, 5.5, 6.0, 6.5 (STEEL)

TRUE TEMPER XP 105 WEDGE FLEX (STEEL)

TRUE TEMPER DG SPINNER WEDGE (STEEL)

NIPPON NS PRO 1150 - R, S



FST KBS C-Taper LITE - R,S,X

Stock Grips
See Grip Specifications
Mizuno M-31 360 .58 Round

Custom Grips
See Grip Specifications
Mizuno M-31 360 .58 Round


Mizuno M-31 360 .62 Ladies


Tour Velvet Midsize - 0.60 Round

Tour Velvet Jumbo - 0.60 Round

Tour Velvet Black Full Cord - 0.58 Round

Tour Wrap 2G - 0.60 Round

Tour Wrap 2G Jumbo - 0.60 Round


Tour Wrap 2G White - 0.60 Round

Multicompound BL/BK - 0.58 Round

Multicompound BL/BK - 0.58 Ribbed

Multicompound RD/BK - 0.60 Round

Multicompound WH/BK - 0.60 Round

Multicompound WH/BK - 0.60 Round, Midsize

Multicompound YW/BK - 0.60 Round

Multicompound Whiteout RD - 0.60 Round

Multicompound Whiteout BL - 0.60 Round

Multicompound Whiteout BK - 0.60 Round


Winn Mizuno Lady Excel 360


R.E.L. 3GEN "Mizuno" Blue - 0.60 Round

R.E.L. 3GEN Gray - 0.60 Round

R.E.L. 3GEN White - 0.60 Round

R.E.L. 3GEN Red - 0.60 Round

R.E.L. 3GEN Orange - 0.60 Round