Stacy Lewis Wins HSBC Women's Champions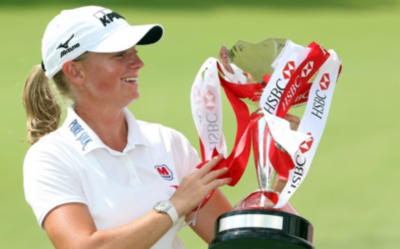 Mizuno brand ambassador and 2012 Rolex Player of the Year Stacy Lewis held on tight for her first victory of the 2013 season, making par on the 18th hole to capture a one-shot victory over Rolex Rankings No. 2 Na Yeon Choi (@nychoi87) at the HSBC Women's Champions. Lewis watched a three-shot lead shrink over her final few ones to just one as she headed to the 18th hole at Sentosa Golf Club's The Serapong Course after bogeys on 15 and 17. But the player known for her grit and determination while battling scoliosis during her youth showed no signs of letting her nerves get the best of her on the final hole.
After watching both of her playing partners hit their drives on 18 with the aid of a down wind, Lewis belted a driver down the middle of the fairway on 18. She then hit a hybrid to the back of the green in two, giving herself a lengthy putt for eagle. She lagged her putt down to about 10 feet for birdie while Choi had a 12-foot birdie putt that could have potentially forced a playoff if Lewis had missed. Choi just slid her birdie putt by before Lewis missed hers and was left with a foot-and-a-half putt for par to win.
A birdie by Lewis on the ninth then moved her to 17-under-par and stretched it to a three-shot lead before some late troubles made the gap much closer. It was quite a battle down the stretch between three of the top players in the world in their hunt to be crowned the "Champion of Champions" in Singapore and Lewis certainly looked a little worn out after capturing her sixth career victory on the LPGA Tour.
"The last four or five holes, I was pretty nervous, I'm not going to lie," Lewis said. "That golf course is hard and it can jump up and get you at any second, and to have to play with two great players on your tail all day, and they played unbelievable, and none of us really we just couldn't get any putts to fall on the back nine. I don't know what it was. Edges just seemed a little bit tighter. Paula had a couple on the edge.
"I don't know, I just played hard and put my head down and tried to make as many putts as I could, and fortunately I came away with the win."
What's in Stacy's Bag:
MP-650 3 Wood (15.0 deg.)

JPX 825 Hybrid (19.0 deg.)

JPX 825 Pro (4-pw)

T-11 Wedges (52, 56, & 60) White Satin