Stacy Lewis Takes Over World #1 Ranking With LPGA Founders Cup Victory
by Iver Maple on March 18, 2013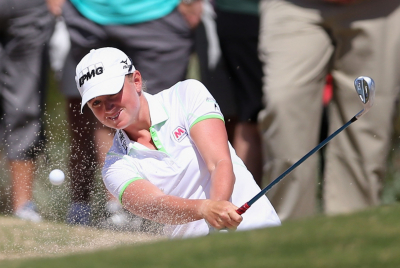 Mizuno Brand Ambassador and 2012 Rolex Player of the Year Stacy Lewis continued her impressive streak of tournaments in 2013, fighting back from a three-stroke deficit down the stretch to capture a three-stroke victory at the RR Donnelley LPGA Founders Cup. The 8-under 64 in the final-round was highlighted by nine birdies prevailing her to her second consecutive LPGA Tour win.
"It's awesome," said Lewis of the win. "I played great today. Myself and Ai we just went back and forth all day; she was making putts, I was making putts."
The win didn't come easy for Lewis as she found herself going into the final round trailing Ai Miyazato by four strokes after an unfortunate two-stroke penalty on Saturday. Stacy is a fighter though and she wasn't going to let anything stop her in her mission to take over the #1 spot in the world.
Lewis becomes only the seventh player to hold the coveted top spot in the Rolex Rankings alongside Yani Tseng, Annika Sorenstam, Lorena Ochoa, Jiyai Shin, Ai Miyazato and Cristie Kerr. Despite always having the goal of holding the No. 1 ranking, Lewis admitted to being surprised of her rapid climb to the top.
"It's crazy," said Lewis with a smile that could light-up a room. "That was my goal kind of since the middle of last year and I really didn't think it would be possible this quick. We've only played four tournaments this year and it's just crazy."
The number one ranking is even more surreal for Lewis who nearly 10 years ago was undergoing surgery to correct scoliosis. The always optimistic Lewis understands now more than ever that everything happens for a reason.
"Yeah, it's almost 10 years ago I was having surgery, I was going into surgery to put a rod and five screws in my back," said Lewis. "That was just 10 years ago. That's not normal, that's not supposed to happen. I mean, I'm not ‑‑ I'm really not supposed to be here.
"People with metal in their back, how do you play golf," she added. "I don't know, I don't know how, I don't know why I'm here. I know that there's a reason and I know that everything happens for a reason. Every setback you have along the way, everything good that happens, it all happens for a reason. I don't know, I couldn't have dreamed the kid growing up wearing a back brace 18 hours a day that is the No. 1 player in the world. I don't know, I don't know what to say."