Stacy Lewis Dominant In Victory at The North Texas LPGA Shootout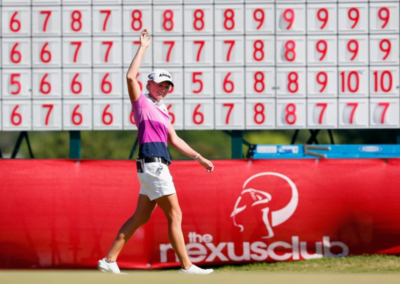 Stacy Lewis said she had something to prove on Sunday at the North Texas LPGA Shootout Presented by JTBC and she proved once again why she's one of the best golfers in the world. Lewis shot the low round of the day with a 7-under 64 to clinch her ninth career LPGA Tour victory and first of the 2014 season. She finished at 16-under 268 and six shots clear of South Korea's Meena Lee. Lewis celebrated her win with several family members and her college coach in her home state of Texas.
"It's awesome," said Lewis. "It's relief more than anything. I've been so close the last few months, you know, maybe if I win one of those, I don't get it done here. So I think it was all meant to be. Just to be here with my family."
Lewis has been playing at an incredibly high level and so consistently over the past year and the University of Arkansas product said this win ranks very highly with her other eight victories. In her last 22 events, she has recorded two wins, six runner-ups and 19 top-10 finishes.
"Considering what's happened the last few months and being here in Texas, this is one of the best ones," said Lewis.
The Woodlands, Texas native held a share of the lead with Meena Lee to start the day and has been lights out in her career when leading after 54 holes. Today marked the sixth time in her career that Lewis has won after leading through three rounds. The six-shot win was also the largest margin of victory on Tour since Jiyai Shin's nine-shot victory at the 2012 RICOH Women's British Open.
"I've been wanting to do this for a long time," said Lewis of her runaway win. "I kind of have these mini goals in the back of my mind, like a bogey free tournament or a certain number of putts, just kind of things that aren't necessarily score related. So one of them was kind of taking a tournament and running away with it, and that's what I've wanted to do it now for a year. So to be so close the last few weeks and then to come out and shoot 64, I mean I don't even know what to say. It's what I've always wanted to do, and just to do it here at home, in front of all these fans was pretty cool." (credit: LPGA.com)
Congratulations Stacy!
What's In Stacy's Bag:
MP-650 three wood
JPX-825 Hybrid
MP-T11 Wedges