Stacy Lewis Captures Her Second Major, the 2013 Women's British Open
by Iver Maple on August 5, 2013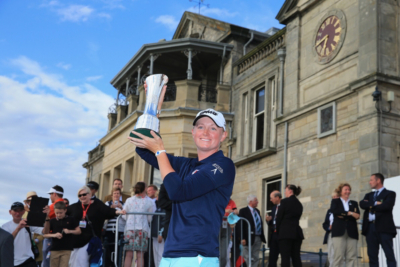 Mizuno Ambassador Stacy Lewis shot a final-round, even-par 72 at the famed Old Course to win her second-career major championship with a two-shot victory over South Koreans Na Yeon Choi and Hee Young Park. Lewis birdied the 71st and 72nd holes of the tournament to move her to 8-under par which proved to be the winning score.
"We're at the home of golf," said Lewis. "To end birdie-birdie is amazing. It's been a perfect day."
The victory is Lewis' second major win and first since the 2011 Kraft Nabisco Championship which was also the last time an American claimed a major title. The win snapped a streak of 10 winless majors for the United States.
"I'm pretty excited about that," said Lewis. "I guess it was the longest stretch we've ever had for an American gap; I don't know if that's for sure. But we get asked about it. I got asked about it this week. Every major, we get asked about it, and it definitely gets old, so more than anything, you guys can't ask me the question for awhile."
Lewis started her day on Sunday with a 4:30 a.m. wake up call and had 36 holes to play after tournament play was suspended on Saturday due to high winds. She got off to solid start, shooting a 3-under 69 for her third round score, and began the final round one shot off third-round leader and fellow American Morgan Pressel. It came down to the final two holes, with Stacy carding two clutch birdies to give her the outright lead.
"I hit the perfect golf shot (on 17)," said Lewis. "I mean, that was the shot ‑‑ I saw the shot in my head, but to actually pull it off, when it counts, it doesn't ‑‑ a shot like that doesn't happen very often. So I knew after I hit it close, I was like, all right, I have to make this putt; somehow this putt was going to go in, because the shot was so good."
Finishing on a high note, Lewis still had to wait for Choi to finish out her last three holes. Choi didn't do herself any favors after finding trouble in the deep rough on the 17th hole. She chipped to six feet but pushed her par putt to drop two shots behind Lewis. She failed at holing out from the fairway on the 18th and the title was Stacy's.
"It's up there with the Kraft, for sure," said Lewis. "The finish might be even be better than the Kraft truthfully. I made a pretty good putt at the Kraft, too. 17 must be my hole for some reason. It might be ahead of the Kraft. To make those two birdies on 18, that's probably the hardest hole location we had all week there. And to birdie 17, any day, is good, let alone the final round of a major."
Congratulations Stacy! We can't wait to see what you do next.