MyGolfSpy.com Rates Mizuno's MP-58 Irons an A+
by Iver Maple on February 4, 2010
Following up on their "Editor's Choice" award in Golf Digest's 2010 Hot List, Mizuno's MP-58 irons with Dual Muscle Titanium technology are now making huge waves among the editors of some of the largest Equipment blog sites on the internet. MyGolfSpy.com, well known for giving extremely honest and thorough reviews, is one of the first to post their review of the MP-58s, and to say it is "GLOWING," would be an understatement.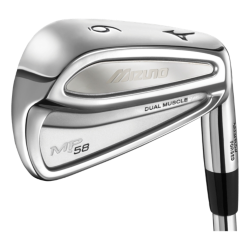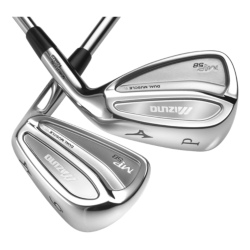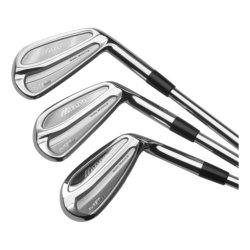 The first couple of sentences really says it all:

"I first have to say that I really did try and try again to find a better set of irons to beat out the new Mizuno MP-58 irons in head-to-head competition...but I just couldn't do it. So after a while lot of testing it was obvious...I had to give them a spot in my bag for 2010. There just too good not to."

They also go on to discuss the unmatched feel of Mizuno's forged irons:

"For many years I have felt that Mizuno has made one of the best irons in golf. And I feel if there were no equipment sponsors on tour and everyone just played what they felt were the best iron for their game that a large % of guys would be playing a set of Mizuno's. Yes...there are a lot of good irons out there...but I have hit almost all of them but the feel from a Mizuno forging is just...well...different. And when I say different I really mean better."

Back to praise for the MP-58s:

"If you are able to test these side-by-side with other competitive irons you will instantly notice how much more feedback you get in your hands with the Mizuno MP-58 irons. You will also notice a much softer feel than other forgings you might have played. And if you are a mid-handicapper, don't think that this set might not be for you. Many of the players we had test these irons were in the mid-handicap range and all agreed that they were improvements on their current irons."

"Although when we pulled them out of the box I instantly felt like this was almost the perfect design for an iron. It was a nice mix of both modern and classic designs. It has a monochromatic color scheme that flowed seamlessly together. And the actual design itself was incredibly sound."

"Hard not to give this one an A+ when it beats out all the other competition we put it up against and all the testers give it an A+ as well.

I think we will be hard pressed to find an iron that we test in 2010 that beats out the Mizuno MP-58's."

Pros:

Beautiful Design

Incredible Feel

Versatile Sole Design

Great Forgiveness

Cons:

Hmmm...couldn't think of one.