Mizuno's MP-650 Ranked #1 In MyGolfSpy.com's Fairway Wood Test
by Iver Maple on December 13, 2012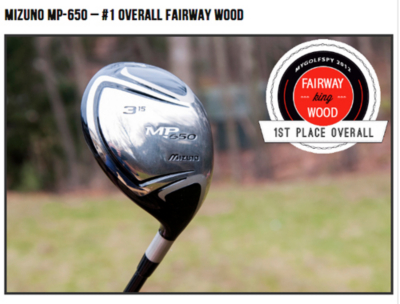 Cult equipment site MyGolfSpy has rated the Mizuno MP-650 'best overall' in their 2012 Fairway Wood Test.

With real golfers testing all the best known fairway woods for both accuracy and distance in a set of very robust conditions....the eventual winner surprised MyGolfSpy, but not us.
Comments from the review:
"I know. I'm as shocked as you are…as shocked as anyone. Of course given that the MP-650 was one of only two clubs to finish in the top 3 for both distance and accuracy, I suppose by this point we probably shouldn't be.
Detractors will point out that the Mizuno (like the untested Adams XTD) has a titanium face, and consequently, it should be longer. Accuracy is a just a bonus. That's probably true, but most golfers don't give any consideration to what the face is made of. They just want it to perform, and for our testers, the Mizuno did…repeatedly.
I watched it happen. I crunched the numbers. I wrote all of this up, and I'm still amazed.
Mizuno's MP-650…winner, winner, chicken dinner."
- My Golf Spy
See all the results here.