MIZUNO EXTENDS RELATIONSHIP WITH WORLD #3 LUKE DONALD
by Iver Maple on January 23, 2013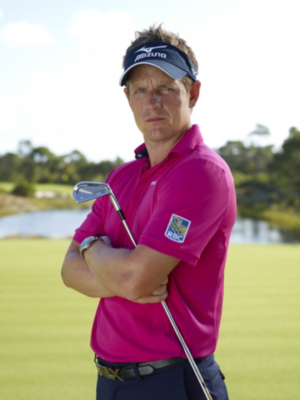 New Multi-Year Contract Extends Long-Time Affiliation with Donald
Mizuno is pleased to announce an extension to one of the longest-standing equipment relationships in golf with world #3 Luke Donald signing to continue to be a brand ambassador for years to come. The agreement ensures that Donald, the world's premier iron player, will continue to play the Mizuno equipment that has led him to 13 professional victories, including his incredible 2011 campaign which propelled him to the top rank on both PGA Tour and European Tour money lists in the same year, a feat that no other golfer had ever claimed.

Known for his amazing iron and wedge play, Donald regularly provides Mizuno engineers with significant and valuable feedback throughout the development of new products. Donald has recently switched to Mizuno's Grain Flow Forged MP-64 irons and MP-T4 wedges – models designed hand in hand with the player. The equipment, forged at Mizuno's exclusive plant in Hiroshima Japan is world renowned for the precision and quality favored by shot-makers like Donald.

Donald established his playing credentials with Mizuno during a standout career at Northwestern University. Donald signed on as a Mizuno Brand Ambassador in 2003 and has since recorded 13 professional tournament wins with Mizuno equipment.

In 2011 and 2012 Donald experienced the most prolific period of his career, holding the world #1 position for a total of 56 weeks. With four international victories in 2011 and top ranks on both PGA Tour and European Tour money lists, Donald was named the PGA Player of the Year and PGA Tour Player of the Year, becoming the first Englishman to win either award. He was also named the European Tour Golfer of the Year.

"I feel as if I am playing as well as ever at this stage in my career. Over the next few years I want to be in a position to win major championships and to continue to improve," Donald said. "We've refined my Mizuno equipment in the last couple of seasons and I'm really happy with what I have in the bag right now, so it gives me great pleasure to extend this relationship. Mizuno is the most precise, incredible club-maker out there, and I'm honored to represent this quality brand."

Akito Mizuno, Mizuno President and grandson of company founder Rihachi Mizuno, is equally delighted. "Luke Donald and Mizuno share a special long-term relationship that we are delighted to continue. Luke has become a very special friend to Mizuno over the years. He perfectly represents our company, and we look forward to what Luke will accomplish in the next few years. "