Mizuno Ambassador Jiyai Shin Wins her Second British Open Title
by Iver Maple on September 19, 2012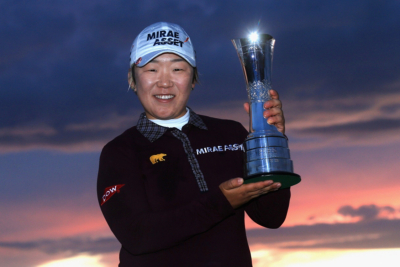 Mizuno's smooth swinging Jiyai Shin cruised to her second Women's British Open title in five years at Hoylake. Shin completed a great return to form using her JPX-800 Forged irons, MP driver and fairway woods and the MP-T11 wedges.
Playing 36 holes on the last day, Shin made light of the testing conditions as the only player to break par – by a full nine shots. The win was Mizuno's 2nd women's major of recent seasons, following Stacy Lewis's victory at the Kraft Nabisco Championship in 2011.
Shin began five clear after a stunning second-round 64 – the lowest score of the week by four – and won first prize with battling rounds of 71 and 73 in rounds 3 and 4. That gave the 24-year-old a nine-under total of 279.
After the biggest win since the event became a major in 2001, Shin said: "It was a long, long, very tough day and I just focused on each single shot. I thought my skill was not good for links, but finally I have great tempo in my swing and I think this course was made for me."