Midwest Golfing Recognizes Mizuno's Performance Fitting System
by Iver Maple on November 4, 2010
Word of Mizuno's Performance Fitting System with Shaft Optimizer continues to spread. Midwest Golfing Magazine recently released their Fall issue which contains a nice two-page article on custom fitting, and more specifically the Performance Fitting System from Mizuno. The article gives a first person account of what happens during a fitting with Mizuno's innovative system, and also what sets the Mizuno Performance Fitting System apart from any other experience out there. As part of the article there are images of the Mizuno fitting cart, the Shaft Optimizer, the patented Mizuno lie fit club, and even a screen shot of the results screen from the Shaft Optimizer software. Articles such as this go a long way to maintain, and increase interest in the Mizuno Performance Fitting System while spreading the word about the benefits of custom fitting in general.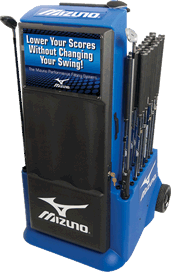 Here are a couple of excerpts from Midwest Golfing Magazine:

"Mizuno's patented technology is the greatest technological breakthrough since the titanium head. In the past, the process was arduous and drawn out. You'd pick a head you liked, try a bunch of different shafts, pair them up and hope it worked. It was all trial and error. The dynamic has now shifted."

"The Mizuno system is quite ingenious because with a simple allen wrench, Nick was able to match the heads with the various shafts. I took at most 20-30 swings given the various combinations and nailed it."