Lytham looms and hopefully it's going to be third-time-lucky for me this year in the majors.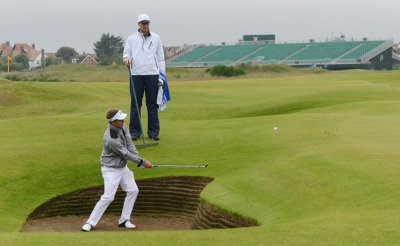 Luke Donald Diary 7/17/2012
Lytham looms and hopefully it's going to be third-time-lucky for me this year in the majors.
Going into the Open as number one will again add to the pressure. It's struck me that my indifferent showings this year, and probably some times in the past, too, come from needing to tackle the majors better mentally. As world number one the expectation is pretty high, not the least by me, to win a major. I've put a lot of thought into it. It's about controlling the anxiety of it all – just going out there and being relaxed, try and avoid pressing too hard and forcing the issue. Not that it should mean anything less, but playing with a little bit more freedom, less hesitation, having a bit more fun. I don't work with a mental coach – Dave Allred only works with me on practicing efficiently. It's got to come from me. I've not been able to spot myself slipping into the agitated mode. People around me have noticed it though.
I'm sure now, that's the key. Then If I can get off to a good start it will give me a lot of encouragement. I've proved that when I get into contention I'm tough to beat.
The majors so far this year haven't gone that well, but I'm approaching The Open differently this time. I feel I still have 30 or 40 majors in me and if I keep learning and getting better physically and mentally one will come along. I'm excited about the opportunities that are coming up.
Mentally comes first now but physically I've had to have a rethink as well. Certainly for the US Open I over-prepared. I tried to play a lot of left-to-right shots because I felt that was what was needed, and it got my swing into some old habits. So I've worked hard the last two weeks on really trying to get the swing shallowed out, getting a little bit more of a solid strike. It entails trying to turn the ball over slightly to be a little more penetrating. That's when I feel like I'm swinging well. It's getting very close to that right now.
The only time I've played Lytham was as an amateur in the Lytham Trophy, quite a few years back now. I still remember it very well. Avoiding the bunkers, as it is at all Open venues, is vital. But that good start on Thursday is what I'm looking for.
It was nice to celebrate a collective 52 weeks as world number one at the Scottish Open. I won't in any way be worried about the curse of winning again at Castle Stuart before playing the Open. Just as I said last year, being in winning form before a major can only be good not bad. I don't think the fact that I just didn't perform (at Sandwich) last year had any relevance to winning the Scottish Open. Sandwich I just didn't adapt well with my short game, I didn't chip or putt particularly well.
Away from the course, my fourth Taste of the Tee, charity wine-tasting event, went wonderfully well. I was able to raise some great money for the First Tee of Chicago Chapter. It's a lovely feeling helping out the kids.
That puts into perspective that there is more to life than golf.
If I needed to be brought down to earth from the world number one spot, though, I got that at Wimbledon. I relished my first time in the Royal Box watching two great matches and then sitting next to Kylie Minogue at lunch. She was a really sweet girl, really genuine – but she wasn't actually aware I was a golfer! I had to mention it to her. Her boyfriend is a keen golfer, though, and she turned round to him and said: 'Luke's a professional golfer'. He said: 'Yes I know that'.
Talking about pressure playing your home major, you could see how much it all meant to Andy Murray. We're all trying as hard as we can to be a success, especially in the big ones. It means a lot to him and it means a lot to me.