Luke Donald reflects on his win to become the Number One player in the world.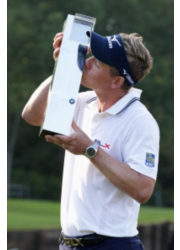 To come through in those circumstances in one of the biggest tournaments in the world, going head-to-head with Lee, was pretty special. It doesn't get much better. I'm not sure if there will ever be a case where No. 1 and No. 2 in the world are playing off for the tournament, but also a chance for the No. 1 ranking in the world. Unique history I think has been made, and I'm glad to be a part of it.
In the playoff it was important to hit the fairway, to be able to control the spin. I didn't really have that control on the 72nd hole out of the rough. I got it to a perfect yardage, 97 yards into a bit of a breeze, so it was just a nice 54-degree T-11 wedge for me. I've practiced that shot countless times. I hit a great shot - shows what a good job Mizuno did with the Quad Cut Grooves after the regulation changes last year. Obviously it put the pressure on Lee. I relied on my good wedge game all week but my coach, Pat Goss watched the (tournament) telecast and saw a few things in my swing. I was getting a little bit too jumpy through impact with my left leg. I was just getting the -- standing the shaft up too high, and that makes the ball go right, right.
He's a hell of a player, Lee; he doesn't back down. I knew it would be a tough playoff. I felt a little bit bad for Lee. He hit a decent shot there on 18, just had a little bit too much spin.
I've always said, winning is always at the top of the list. It's always the top of the goals. I'm not going to lie; being No. 1 feels fantastic. It's a great honor, a great achievement. But you know, winning is what got me there. A big win back at the Accenture Match Play, and a big win here. It's obviously been a great year so far, and just because I'm at No. 1 doesn't mean that I'm done now. I've still got a lot of work to do, hopefully a lot of titles to pick up, and hopefully I can keep going from strength-to-strength. The world No. 1 ranking is based on consistency, I have been the most consistent this year. I have been giving myself opportunities every week. This is something like my 14th or 15th Top-10 in the last 15 or 16 tournaments. I've had a great run, and you know, it pays to be consistent, and it obviously pays in the World Rankings.

It's obviously a special accomplishment, something that I'll remember forever. As I said before, it's something that will be a great story when I'm an old man telling my grandkids that I was once the best player in the world at golf. It's a little surreal. It's hard to believe in a certain way. You keep thinking that you have the ability and the talent, but you never quite really know.

Whether it will change me, I don't think so. The goal for me is to always continue to focus on the processes of getting better, and just because I have reached the pinnacle of the World Rankings doesn't mean my work is done. I have a lot more to accomplish, hopefully many more victories in me, and hopefully I can at least be somewhat of a worthy No. 1 for a few weeks.