Great Sadness Surrounded the End of a Remarkable Season
by Luke Donald on December 21, 2011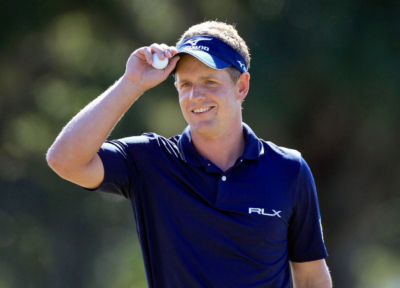 The loss of my father came at what was supposed to be a time of great joy for Diane and I. My dad died at the birth of our second daughter, so that produced a wide range of emotions. It was something you can never prepare for.
Dad was immensely proud of my achievements. The year 2011 has been a break-out year for me, an amazing year – a season that, as a golfer, you always aspire to. It was nice for everything I have worked for to come to fruition. Sometimes that hard work doesn't always pay off but this year it did.
It all started with my win at the Accenture Matchplay. That gave me great confidence and then I was able to get to the top of the world with my win at Wentworth. Another great win in the Scottish Open showed that I was where I belonged and then the win in the Disney might just have been my most satisfying win – the manner in which I did it and what was on the line.
I've had so many positives this year and now a lot of awards are coming in at the end of the year: US and European Player of the Year and the Golf Writers award.
It's hard to pinpoint when I moved up another level. I guess I just needed that one big win for proof. It was probably the Matchplay that opened the doors. Winning is very important because it breeds a lot of confidence. I could probably even go back to the previous year's Madrid Masters. Just winning that smaller event was huge for my confidence.
To consolidate this, I have good people around me: my coach Pat Goss and also Dave Alred, my fitness coaches Ben Shear and Craig Knight and my caddie John McLaren. All of them are looking at ways for me to try and improve. And I have a very loving a supportive family. That's all helped me get to the level I've achieved.
I don't believe I've changed that much. It's just been a case of constant improvement and trying to get everything a little sharper. But at the beginning of this year I certainly spent a lengthy time on the range before I began my season. I had six full weeks of good, hard work. In previous years I didn't have as much time as that. I'd always started the year off earlier and that way it's always hard to ingrain any improvement in your swing. That six weeks was very key.
I was able to really get the club, at the top of the backswing, in a neutral position. It wasn't quite as shut. That has helped my driving, for sure. My accuracy on the US Tour went up and I led the driving accuracy stats in Europe. Everything starts with that. Get the ball on the fairway and it makes everything a little bit easier. I've always said the short-game is the key to scoring and I've maintained my strengths in that over the last year, but I've certainly improved my long game enough to where it's shaved off a few strokes here and there. That is the difference between a decent year like I had in 2010 and a break-out year this year.
If you're playing well, too, you can play well at any course. I think I showed that with some of the wins I had. The Matchplay was on one of the longest courses we play all year; Wentworth's quite a narrow course; Castle Stuart is quite a wide-open course. But the key to winning both money-lists has been an amazing amount of consistency. I still think there is room for improvement but all parts of my game are reasonably consistent.
I'm looking for an even better year next. There are certain things in my career I haven't achieved yet – winning a major, obviously. In the modern game pros are judged on how they do in the majors and how many they've won. Jack, Tiger, Nick Faldo, Seve...they were able to win multiple majors. At the same time, though, what I've proved this year is that I was able to pick up awards without winning a major. The golf writers' award, from the people that really know golf, told me a lot. It said, well you didn't win a major but you still played the best of anyone this year.
I've got the prospect of a new start clubs-wise next year. For the last couple of months I've been given some MP-69s and 59s to try. I did a Master Class shoot for Mizuno and I used the 59s during that shoot. They felt quite nice. I'm going to take a few weeks off without playing any golf and then when I pick up the clubs again next year there's a good chance I'll put the 59s in play. I'll be starting my year in Abu Dhabi, have a couple of weeks off and then start again in L.A.
Next year's Ryder Cup will be another matter to concentrate on soon enough. There's talk of me reporting back to Ollie about the course for a start. I live only 30 minutes away from the Ryder Cup course, Medinah. I've played it quite a few times but they have just re-designed it and I haven't played the new design. I will be going there a few times over the summer and maybe that will help Ollie with his captaincy. Obviously I've got to make sure I'm on the team. If I keep playing the way I am playing, it shouldn't be a problem.