Donald Rides His New MP-59 Irons On His Way Back to World #1
by Iver Maple on March 19, 2012
Luke Donald reminded the golfing world that he would be a big factor in the 2012 season with a playoff win at the Transitions Championship.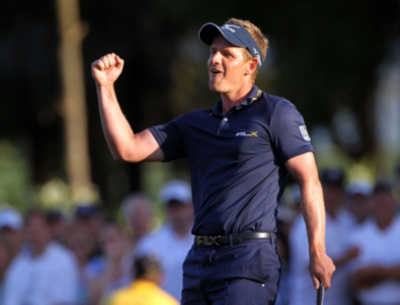 Luke Donald at the Transitions Championship
A flushed Mizuno MP-59 seven iron into 6 feet on the playoff hole also dispelled speculation that an off season equipment change could be detrimental to his game. The win moved Donald back to No. 1 in the world, a position he held for 40 weeks before briefly letting Rory McIlroy borrow his throne.
"Absolutely," Donald continued when asked if he felt as if he'd been written off after McIlroy's ascension to the top. "I don't pay too much attention to it, but I certainly wasn't in the media at all. I think people thought that my last year was maybe a little bit more of a, not a fluke, but I don't think many people thought I could do that all over again this year. Hopefully I can prove them wrong."
In a final round that saw as many as six players share the lead late in the day, Donald did just that in his latest effort to convert the non-believers.
After a final-round 66 to erase a three-shot deficit, Donald landed in a four-man playoff with Jim Furyk, Robert Garrigus and Sang-Moon Bae. There has never been a better example of our "The Iron Truth" campaign than what transpired next. When they all teed off on the par-4 18th hole, it was Donald who was the shortest and widest off the tee, leaving himself 159 yards that played more like 170 uphill and out of the rough. Despite playing first, Luke relied on what counts, his iron game, to seize the moment. Donald flushed his MP-59 seven iron and the ball narrowly cleared the bunker, landed softly and settled 6 feet from the hole – setting up the winning birdie putt.
"That seven iron came out perfectly." Donald said. "To get a win so quickly with the new irons, shows that we made a sound decision to change. The whole point was to find an iron with the same control and shape as my old MP-62's, but with a touch more forgiveness. That's why we switched to the MP-59's. That last shot was good early payback."
To find out more about "The Mizuno Iron Truth" visit www.theirontruth.com.