Q/A with Stacy Lewis
Q: What was it like competing against Michelle Wie in Q-School?

A: There was a lot of pressure and coverage. There were even bleachers and stands, for LPGA Q-School! To have all that attention was fun, but truthfully it was great to have it over with and get on to the tour.
Q: What was it like leading the field in your first US Open?

A: The US Open was surreal. I played okay the first two days, and then all of a sudden my putter catches fire and I'm leading. It happened so fast! Each day, after I finished playing I would go through my warm-down practice routine. But after my third round 67 I did a bunch of interviews and just wanted to get out of there. I didn't do what I'd been doing to get into that position. It wasn't clear at the time that it had an big effect, but looking back I feel that it did. I wish I'd just hit a few and calmed down a little bit.
Q: What's the biggest challenge you've faced in your career?

A: Three years after I started playing, I found out that I had scoliosis. Over the next seven years, I wore a corrective body brace for 18 hours a day. The only time I was allowed out of it was to play golf! Maybe that's why I love it so much—it was a relief. When I was 18, I had a spinal fusion operation and was told that I might never play again. There is now a rod and five screws in my back. And when my doctor found out that I played golf competitively, he conducted the surgery a little differently so that I could retain more rotation in my swing. The recovery was the worst pain I've ever imagined, but going through that ordeal made me tougher mentally. It gave me a new appreciation of what I'm able to do. It didn't matter how I played, I was just excited to be out there at all, and that made me a better player.
Q: How did you select Mizuno?

A: I just have found that they set up well to my eye. They're consistent, and I love their fit and feel. Mizuno's drivers just look better to me than most—and I can really control my shots with them. Many pros go straight for a blade, but if I can hit the same types of shots with a cavity back, I'll go for that every time. And with my Mizunos, I can still shape the ball just fine.
address line 2:
Hillcrest Shopping Center
Mizuno MLB Ambassador of the Week: Ian Kinsler
Mizuno Brand Ambassador Ian Kinsler is off to a blazing start in the 2011 season. The defending American League Champion Texas Rangers swept the Boston Red Sox, the AL East favorites, over the weekend. Kinsler has four hits in the series, including three home runs, as the Rangers picked up where they left off in 2010. He led off the season, as well as the second game of the year, with a home run, becoming the first player in the history of Major League Baseball to accomplish such a feat. Kinsler homered in the third game on the year as well, becoming just the fourth player in franchise history to hit a home run in the first three games of the season.

Kinsler plays with the following Mizuno equipment:
Mizuno Pro Limited GMP41 Ball Glove
Global Elite Series Batting Gloves
Vintage G5 Cleats
Congratulations Ian!
Mizuno Brand Ambassador Ichiro Suzuki Sets Mariners' Hit Record
Mizuno would like to congratulate Brand Ambassador Ichiro Suzuki for breaking the Mariners' all time franchise hit record. On Saturday, April 2nd against the Oakland A's, Ichiro recorded two infield singles, which put him at 2,248 total hits, one past Edgar Martinez.

This latest milestone came in a winning effort, as the Mariners defeated the A's 5-2. Ichiro also holds the Seattle franchise record for stolen bases (386), triples (71), and career batting average (.331). This is his 11th season with Seattle, where he has successfully had 200+ hits each year, including 2004, when he set the single season record with 262 hits.
Stacy Lewis Wins Season's First Major
Stacy captured her first LPGA tour victory in style. It was the first major of the year and she defeated the number-one ranked player in the world while doing it. At the Nabisco Championship in Rancho Mirage, California, Lewis proved that power is alive and well on the PGA Tour by averaging over 280 yards per drive with her JPX-800 driver and proficiently utilizing her new JPX-800 PRO irons, Mizuno fairway wood, hybrid, and MP T-11 wedges.
Stacy was dominant in the final round, erasing an early two-stroke deficit to tournament champion and world #1, Yani Tseng. She went "yard for yard" with Tseng, as she was able to battle gusty wind conditions with long and precise iron play with her JPX-800 PROS, which she put in her bag for the first time just before the tournament. Lewis punctuated an incredible back nine by making an improbable 20-foot par putt on the 17th, virtually sealing the victory.
Stacy Lewis is now officially one of the brightest young stars on the LPGA Tour, and with her unmatched iron play, length off the tee, and amazing short game, she is truly the complete package.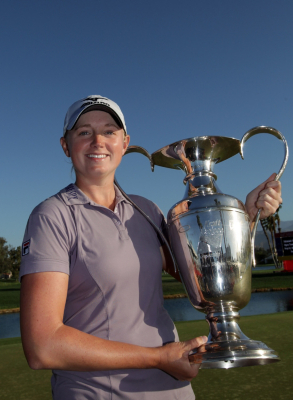 Mizuno Brand Ambassador Cory Bartlett Gets First Career Win at LMU
Lincoln Memorial University's Cory Bartlett took medalist honors for the first time in his career with a scorching 67–70=137(-7), which was eight strokes better than teammate Eric Kennedy.
HARROGATE, TN - Only days after rolling over the competition in the Cherokee Valley Invitational that was hosted by North Greenville University, the Lincoln Memorial University men's golf team received a no. 29 national ranking in the latest Golfstat poll released earlier this week.
While this past week's win at the Cherokee Valley Invitational is the Railsplitter's first tournament championship of the 2011 spring season, including this week's win, the LMU men have finished inside the top-5 in five of the eight tournaments in which they have participated this season. Furthermore, their efforts have also helped the LMU men's golf program earn a no. 10 regional ranking by the NCAA.
This week the Railsplitters participate in the Tennessee State University Big Blue Intercollegiate to be held at Kings Creek Golf Course in Spring Hill, Tennessee. The tournament will be the Railsplitter's final outing before the upcoming 2011 Food Lion South Atlantic Conference Championship that will take place April 11th & 12th at Rock Barn Golf and Spa in Conover, North Carolina.

What's in Cory's Bag

Driver - Mizuno MP 630 9.5 degree Fubuki Stiff Shaft

Woods - MP titanium 3 woods 15 degree Fubuki Stiff Shaft

Irons 3-6 - MP 57 Dynamic Gold Stiff

Irons 7-pw - Mp 67 Dynamic Gold Stiff

Wedges - MP T11 52 degree and 58 degree

Putter - Mizuno Bettinardi BC3 BC-3 Black Carbon 32 inches

Ball - Titlist Pro V1x