Wave Musha 4
by Seth Hasty on February 22, 2012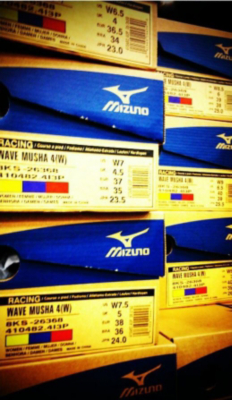 When the alarm went off at 5:30am this morning I groaned, not because it was still pitch black, cold, and I wanted more sleep... but because I knew I had a 5 mile time-trial workout that I had been dreading since I saw that my coach (Mizuno Race Team member; Tyler McCandless) put it on the schedule. Went downstairs, brewed a pot of coffee, and then a smile cracked across my face... I GET TO RUN IN MY MUSHA'S!
Shoe nerds like me (and probably you) tend to rotate our shoes daily. For most of my everyday and long runs I'm in either the Wave Elixir or Wave Inspire, slow/recovery days I'll rock the Wave Rider or even the supremely plush ride of the Wave Prophecy to give my legs a break. But this morning was special, it was a speed workout day... which meant I got to bust out Wave Musha 4's!
When it comes time to go fast, you'll almost always find me in the Musha. My bio-mechanics are um, "not perfect" which makes the Musha my sole-mate (haha, see what I did there?) for all my speed workouts and any race above above the 5k. I overpronate a bit, so the touch of medial support within the Mizuno Wave that runs from the heel into the forefoot of the Musha, provides just enough guidance without over correcting.
Some cool things about the Musha, sure it's lightweight (7.8oz men, 6.8oz women), provides an awesome, minimal and low to the ground experience, and like all Mizuno shoes you get that smooth, responsive ride! What will really amaze runners when they drop the hammer and kick it into gear with these on, is how much cushion and stability can be put into such a small, lightweight package!
Oh, and this is for the ladies... No more sizing down to race in a men's shoe! I'm super happy to share that Mizuno listened, and released a Women's specific Musha this season for you!
The biggest update on the Musha from last year has been the addition of Mizuno's AP+ midsole, which enhances rebound and gives a bit of bounce to the shoe, while maintaining that superior lightweight performance that brought us all to Mizuno in the first place! The new edition saw the fit being refined as the heel collar was opened a touch, yet still keeping the same superb fit. I'm pretty stoked on some of the overlays being tweaked a bit too, as I'm 150 miles into my pair and I have no issue with rubbing or blisters! Of course, in true Mizuno fashion the new Musha also looks fast! The "Lime Punch" colorway is beautiful, and when you blur past your friends at your next race... they'll for sure be able to spot you!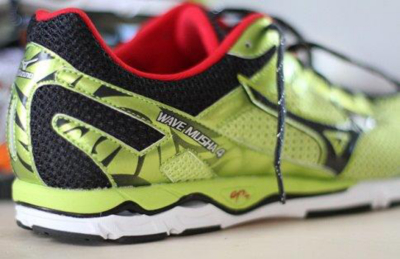 Ok, you get it... I obviously love this shoe, so I wanted to share someone else's take on the Musha 4 with you. Someone much, much faster than I. I looked no further than my pal, Mizuno Racing Team runner Zach Hine. Zach finished as the 2nd American in the 2011 Boston Marathon (2:16:54), and followed that up by chopping 24 seconds of his PR last week at the Olympic Marathon Trials in Houston. Most Mizuno runners went with the Ronin at the Trials, but Zach embraced his pronation and went with his favorite Mizuno flat, the Musha 4.
I recently asked Zach about his choice to join the Mizuno team, and how they stack up vs. other brands he has ran in:
"Since I've switched over to Mizuno, what I like best about the brand is that they are able to provide me the support I need for my pronation but also keep the shoes incredibly lightweight. Most stability shoes are on the cumbersome side due to the added material but Mizuno's are just as light as a neutral shoe"
Right on Zach, I couldn't have said it better myself. Zach went a bit more in depth about why the Wave Musha was the best option for Houston...
"I chose the Musha 4 because it had the best of what I was looking for in a race flat. I knew Houston would be a lot of concrete so I wanted something that had more cushioning than the Ronin but not at the expense of a heavier shoe, the Musha worked great! In addition, the little bit of stability was an added bonus, especially over a distance as long as the marathon."
Both Zach and I invite you to join us as Musha runners!
Give it a test ride at your local running store... just be warned, it'll get you excited to go fast!
Until next time... Never Settle.
- Seth