Mizuno Shoe Guy Answers Your Footwear Questions—July 2012
Do you have a shoe-related question? Or a running shoe question, specific to Mizuno for the Mizuno Shoe Guy? If you have a question you'd like him to answer, send it to Shoeguy@Mizunousa.com. He'll pick five questions a month to answer and if he picks your question, we'll send you a beautiful Mizuno tech T-shirt.
Nirvana and Inspire differences
Q: I am ready to switch to Mizuno shoes due to injury issues. I weigh about 138 pounds and my height is 5-6. Currently, I run about 20 miles per week in the Asics Kayano, but I am having plantar fasciitis problems. I am looking for a Mizuno shoe with better stability and cushioning to help me with my injury. I have read great reviews about your shoes, but don't know the difference between the Wave Nirvana and Wave Inspire. Can you explain the differences? Darlen C. de França, Fortaleza, Brazil
A: Darlen, both the Wave Nirvana and Wave Inspire are excellent support shoes. Even so, they are very different. The Nirvana offers maximum protection in terms of support and cushioning. The Inspire is still very supportive, but it simply doesn't offer the same level of full-length support and cushioning as the Nirvana. The Nirvana is also slightly heavier and more durable than the Inspire. In my opinion, the Nirvana is just as supportive as the Kayano, but it has a more cushioned ride and better durability.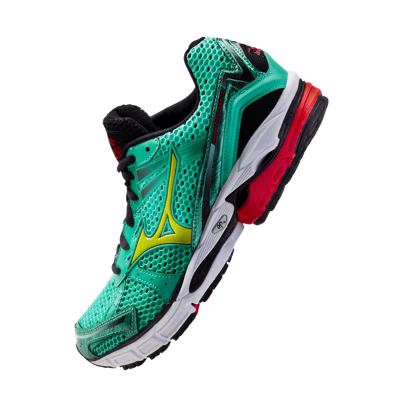 Women's Wave Inspire 8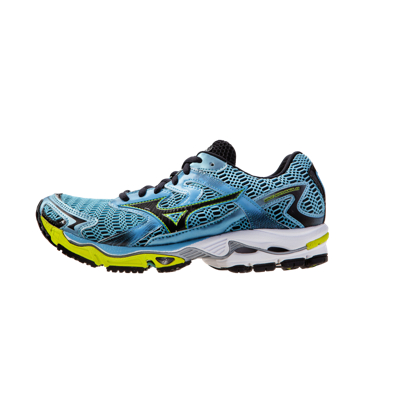 Women's Wave Nirvana 8
Need a wide, support shoe
Q: I started running again recently after a few years off and was fitted with the New Balance 860. Unfortunately, I have had nothing but problems since wearing it. I instantly got shin splints, my ankles hurt and I have arch pain. Even worse, the New Balance shoes feel like concrete under my feet. I admit I'm overweight with a wide foot, but I also want a lighter, more comfortable support shoe than the 860 which fits me better. Any suggestions? Hollie Dickey, Murfreesboro, Tennessee
A: I would definitely suggest the Mizuno Wave Inspire 8. It has lightweight support, very good cushioning and it's available in a wider (D) width for women. Even so, the Inspire won't be an instant "cure" for your shin splints. If you shins are sore to the touch, I would suggest getting the Inspires but instead of getting back into your regular running routine, take a break and just walk for a week or two on a soft surface such as grass or dirt. Ice the sore spots on your shins immediately after walking (to reduce the inflammation) and consider adding some light leg strengthening for your calf muscles, hamstrings, hip flexors and quadriceps. These muscles stabilize your lower legs and will reduce torque on your shins. Once the soreness (inflammation) is gone, begin a light running program in the Inspires but back off at the first sign of soreness.
Rider fan wondering whether she should switch
Q: I am a 36-year-woman who has been running for about four years. I underpronate and had serious plantar fascia issues in one foot until my running store hooked me up with the Wave Rider last year. Since then, I've been injury-free but I am just reaching the point where I am tackling different types of runs such as track intervals and tempo runs. My question is whether you think I should stick with the Wave Riders or try a different shoe? After reading some of your blogs, I am considering switching from the Riders to a more cushioned shoe such as the Wave Enigma or Prophecy for long runs (10-15 miles) and getting the Wave Precision for shorter, faster runs and the Wave Ronin for racing. But you seem to swear by the Elixir for racing and training and have indicated that some neutral runners use the Wave Musha as well. Is it a good idea for a neutral runner like me to use Wave Elixir for training and racing? Also, is there a Mizuno shoe which might eliminate my need for a shoe insert? Finally, should I switch my Wave Riders for a more cushioned shoe for long runs? Amanda L. Hall, Hermitage Tennessee
A: Lots of great questions Amanda which I'll get to, but first I have to say I'm a big believer in sticking with what works. That is, if you are running well in the Wave Rider with your shoe insert, I don't see any pressing reason to switch to another shoe. Also, using inserts are a lot like wearing corrective lens. If you need to use a pair, you don't grow out of it. There's nothing wrong with wearing inserts. (I've been using orthotics for many years and would be lost without them.) Anyway, should you try the Wave Musha for racing? It depends on many factors, but if you are a beginning racer, I would say no. At least, not at first. Instead, I would try either the Wave Elixir or Wave Precision for faster runs and use the same shoe when you begin racing. Which one? Hard to say, but the Elixir offers a bit of support while the Precision is strictly neutral. I do love the Wave Elixir and even though it does have a little support, many neutral runners have been drawn to it for its light cushioning and responsive, quick ride. Lastly, should you switch from Wave Riders to a more cushioned shoe for long runs? If you feel the Wave Rider lacks cushioning an hour or two into your long runs, you might want to consider either the Wave Enigma 2 or Wave Prophecy. But if the Rider is working well for you on shorter runs, I would use it for long runs too. The Rider has plenty of cushioning and works just fine on long runs. Bottom line: I don't normally see an upside to fixing something which isn't broken.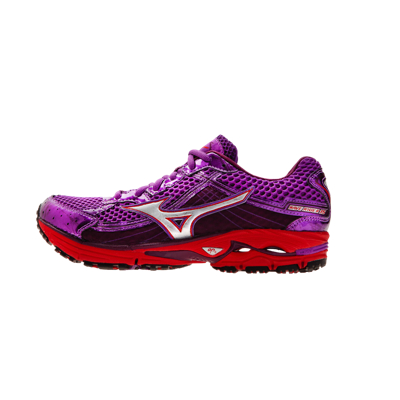 Women's Wave Rider 15
Looking for more cushioning
Q: I'm a 37-year-old lifelong athlete who played soccer all through college. I'm currently training for my first marathon and have been using both the Brooks Glycerin and Saucony Triumph. The problem is both of these feel "mushy" and I haven't liked either shoe, especially since my Achilles started hurting. Jeff Galloway recommended I look into the Mizuno Wave Riders. Is that a good recommendation and will the Wave Rider provide a firmer ride than the Brooks and Saucony shoes? Ted Kramer, Wykcoff, New Jersey
A: Many brands use midsoles that are much softer than Mizuno typically employs. Shoes with soft midsoles often feel good when you try them on in the store, but once you begin running, they feel marshmallow soft and your feet tend to sink into the midsole. When this happens, you dissipate energy on every footstrike. Even worse, midsoles that are too soft, tend to put a stress and strain on various body parts such as your Achilles. Mizuno midsoles have just as much cushioning as any other brand, but the cushioning tends to run firmer which is more energy efficient and safer. The Wave Rider typifies that approach with a firm, but light midsole. It's a great shoe that has been one of the mainstays of our line for over 15 years. I suggest you listen to Jeff's advice and get a pair for the remainder of your marathon training.
Precision fan
Q:I love your shoes. I've only been running for a short time, but was fitted recently in a pair of Wave Precisions. Other than they are a little bright for me, these shoes have been great for me. I treat the Precisions like gold and only wear them for running. I'm going to begin racing this summer and was wondering whether you should think I should buy another pair of Precisions or a completely different, lighter pair for racing? Ryan Rene Rosado, Westbury, New York
A: I'm glad you like the Precision so much. It is an exceptional lightweight trainer-racer. A racer? Yes, that too. Plenty of runners also race in the Precision at all distances through the marathon. If you are a new runner and beginning racer, my advice is to continue to use the Precision for racing. You probably aren't ready for an extremely light pair of racing flats and would be better served in wearing the Precision for your first few races. After those initial races, you can consider a racing flat. It might be a good idea to buy a new pair of Precision though for your first few races. You don't want to start a race—especially a long race such as a half marathon or marathon—with worn down shoes. You will have a much better race experience wearing a relatively "fresh" pair of shoes
Men's Wave Precision 13