My Mama!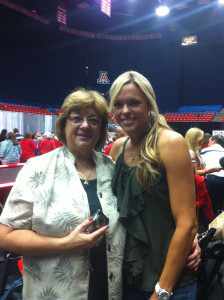 "All that I am or ever hope to be, I owe to my angel Mother." Abraham Lincoln
When I think of my Mother I think of my rock, my go to, to backbone, and so much more. I am so blessed to have the Mother I do. She is always there and always has been. I cannot think of a time where I didn't have her there. The many games she has sat through, the many tears she has wiped and the many tears that have fallen from her beautiful green eyes, the many sacrifices, the love she has always shown me, I cannot express my gratitude for my mama! I praise God for the woman and example she is and has helped me become. I look back and she has not once put herself before us, constantly giving and giving. The many back rubs, the patience, the understanding, the many hugs, the constant prayers, she has given me way beyond anything I can put on paper. You have given me and shown me wings so that I could fly! Today and everyday we should all celebrate our Mother's and the many amazing Mother's of this world.
Happy Mother's Day, Mom! Thank YOU! I love You!