Jennie Finch's People.com Blog: Adding Pink to the Mix
by Jennie Finch on September 13, 2012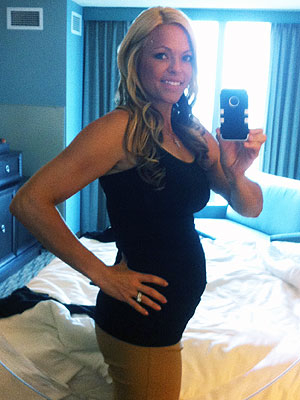 I think I'm officially showing – Courtesy Jennie Finch
This pregnancy is flying by! I've been keeping busy with my boys, and still traveling quite a bit for work, so that will pretty much make time fly. It's all a blessing.
Ace is now a first grader. It's official that summer has come and gone. We are back into bedtimes, packing lunches,and homework — along with counting down the days until the weekend constantly!
Having two boys this go around, I've noticed that this pregnancy has been a little harder on me physically. I have to remind myself why I am so tired at times — being a working mom just like so many out there, you have to just keep pressing onward. My doctor described it as "survival mode for the first trimester" and I often still feel this way even though I'm into the second trimester.
I can't tell you how much I respect all the single parents out there doing it all solo. I am so blessed to have Casey and the teamwork it takes to make it all go. When I do get a minute to think about our precious little girl inside of me I am reminded of what a true miracle it is. Incredible.
Yes, I said girl! We are so excited about our little darling inside of me. We are so beyond grateful for our boys, but it will be fun to add some pink in the mix. People always said, "Don't you want a girl?" My reply has always been my boys are more than I could've imagined, and I am thankful for whatever we get!
I've been getting a lot of, "Now you have your softball player!" Yes, I get to share my pink Mizuno equipment with her — it is a fierce pink. Having two older brothers myself, I know just how special it is to have them. It's so fun to think that she will have two older brothers to teach her, look out for her, toughen her up, to hang with and to love her.
I am so grateful she will get that same experience I had being the baby girl. I blame and credit my brothers for my competitive fire within me. Growing up, I lost at everything! My brothers are quite a bit older — 10 years and 5 years — so it was a challenge but I have some of the most amazing memories with my big brothers.