Versatile High Spin Wedge for Maximum Control and Ball Stopping Power
News & Reviews
With a design that is not too busy or too plain — the Mizuno MP-T4 simply put is perfect…subtle beauty, combined with outstanding craftsmanship and superior technology.
- Golfwrx Review
Design Details
The MP-T4™ was designed with input from Luke Donald and other Mizuno Staff Members to be the most versatile high-spin wedge on the market. For the ultimate in feel where it counts, the MP-T4 wedges are Grain Flow Forged® from 1025E "Pure Select" mild carbon steel. Mizuno's high-spin Quad Cut Grooves combine with the innovative 'DG Spinner' shaft to maximize spin for ball-stopping power. A newly designed and more playable sole features aggressive heel and toe relief for consistent shot making from any lie. For the player that prefers a teardrop head shape, the MP-T4™ is the perfect scoring weapon.
Tech Spec
QUAD CUT GROOVES, a CNC Milled face, and DG Spinner shaft deliver maximum spin and ball-stopping power.
Strategically Engineered Sole Geometry to provide more toe and heel relief for maximum shot making versatility.
Patented Grain Flow Forged® 1025E "Pure Select" mild carbon steel for superior soft, solid, and consistent feel.
Tour Proven Teardrop head shape.
Exotic White Satin Chrome and Black Nickel finishes.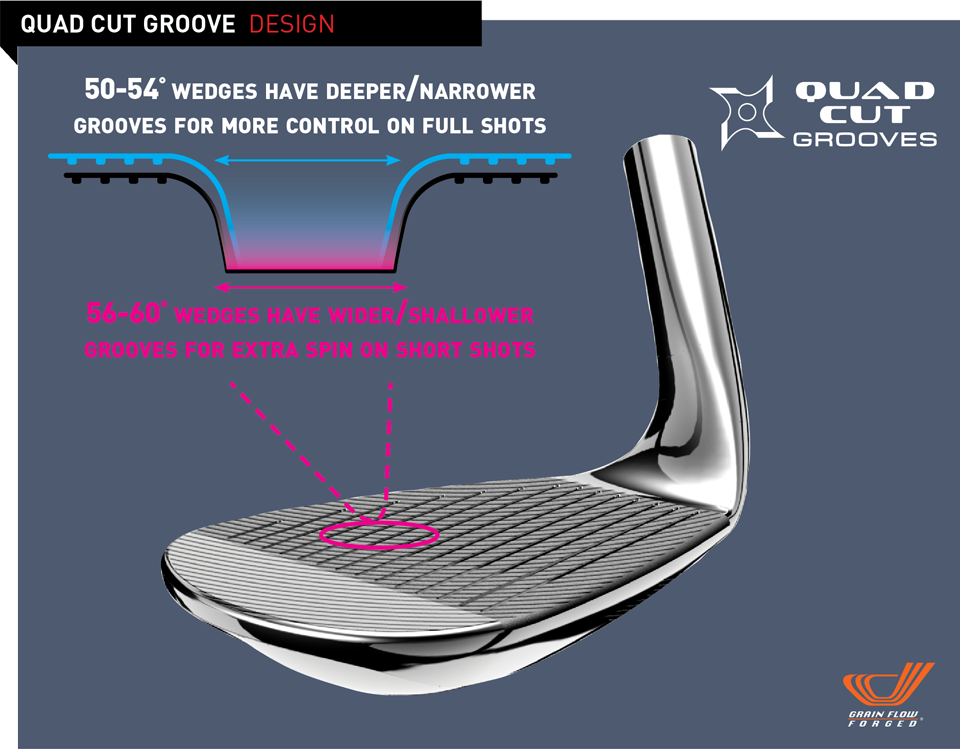 MP-T4 R&D Video

Charles Howell Tests MP-T4

Mizuno Performance Fitting System

Mizuno Golf Custom Manufacturing
---
Specification
| | | | | | | | | |
| --- | --- | --- | --- | --- | --- | --- | --- | --- |
| Club # | 50-06 | 52-07 | 54-09 | 56-10 | 56-13 | 58-10 | 60-05 | 60-08 |
| RH White Satin | Yes | Yes | Yes | Yes | Yes | Yes | Yes | Yes |
| LH White Satin | N/A | Yes | N/A | N/A | Yes | N/A | N/A | Yes |
| RH Black Nickel | Yes | Yes | Yes | Yes | Yes | Yes | Yes | Yes |
| Loft º | 50.0º | 52.0º | 54.0º | 56.0º | 56.0º | 58.0º | 60.0º | 60.0º |
| Lie º | 63.0º | 63.0º | 63.0º | 63.0º | 63.0º | 63.0º | 63.0º | 63.0º |
| Bounce º | 6º | 7º | 9º | 10º | 13º | 10º | 5º | 8º |
| Length " | 35.25" | 35.25" | 35.25" | 35.25" | 35.25" | 35.25" | 35.00" | 35.00" |
Standard Stock SKUs
210554 RH White Satin Steel
210555 LH White Satin Steel
210556 RH Black Nickel Steel
Stock Shafts
See Shaft Specifications
TRUE TEMPER DG SPINNER WEDGE (STEEL)
Custom Shafts
See Shaft Specifications
FUJIKURA OROCHI: LL, L, RL, R, SR, S

PROJECT X GRAPHITE - 4.5, 5.0, 5.5

TRUE TEMPER XP 105 - R300, S300 (STEEL)

TRUE TEMPER DYNALITE GOLD XP - R300, S300

TRUE TEMPER DYNAMIC GOLD - R300, S300, X100 (STEEL)

TRUE TEMPER DYNAMIC GOLD SUPERLITE - R300, S300 (STEEL)
PROJECT X - 5.0, 5.5, 6.0, 6.5 (STEEL)

TRUE TEMPER DG SPINNER WEDGE (STEEL)

NIPPON NS PRO 1150 - R, S



Stock Grips
See Grip Specifications

Custom Grips
See Grip Specifications

Tour Velvet Midsize - 0.60 Round

Tour Velvet Jumbo - 0.60 Round

Tour Velvet White Full Cord - 0.60 Round

Tour Velvet Black Full Cord - 0.58 Round


Tour Wrap 2G - 0.60 Round

Tour Wrap 2G Jumbo - 0.60 Round

Tour Wrap 2G White - 0.60 Round

Multicompound BL/BK - 0.58 Round

Multicompound RD/BK - 0.60 Round

Multicompound WH/BK - 0.60 Round

Multicompound WH/BK - 0.60 Round, Midsize

Multicompound YW/BK - 0.60 Round

Multicompound Whiteout RD - 0.60 Round

Multicompound Whiteout BL - 0.60 Round

Multicompound Whiteout BK - 0.60 Round


DriTac Women's - 0.60 Round

DSI Black Women's - 0.60 Round

Winn Mizuno Lady Excel 360


R.E.L. 3GEN "Mizuno" Blue - 0.60 Round

R.E.L. 3GEN Gray - 0.60 Round

R.E.L. 3GEN White - 0.60 Round

R.E.L. 3GEN Red - 0.60 Round

R.E.L. 3GEN Orange - 0.60 Round