Mizuno MP-59 Golf Irons
stock price starting at:
USD

$

999.00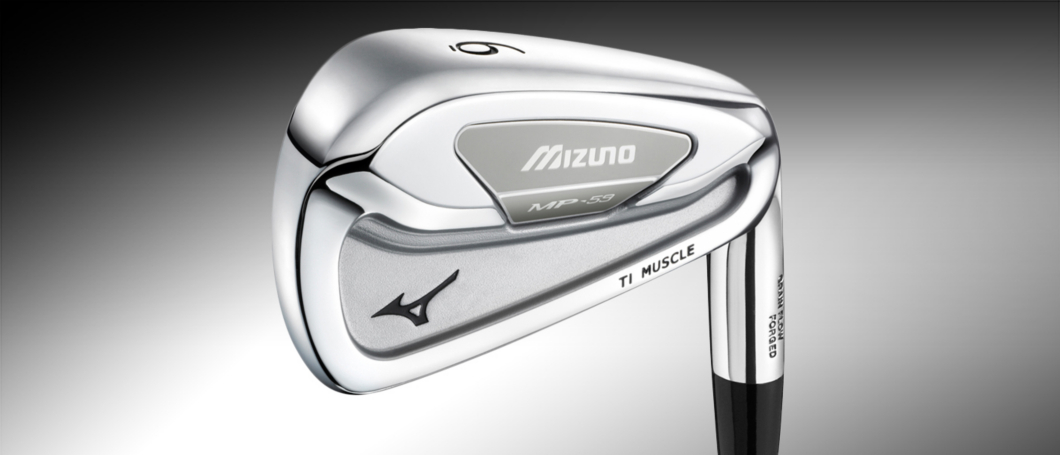 Full Cavity Forgiveness in a Player's Half Cavity Design

With their thin topline and minimal offset, the MP59's are one of the best looking irons in the address position on the market.
-Golfwrk Editor Review
Design Details
The MP-59™, the next generation of our award winning Ti Muscle™ Technology, delivers full cavity forgiveness in a player's half cavity design. During the elaborate Grain Flow Forging process, the pure Titanium material is forged into the muscle of the MP-59 to deliver a 5% larger Sweet Area compared to the MP-58, the iron that debuted Ti Muscle Technology while taking home "Editor's Choice" in Golf Digest's 2010 Hot List.
The lightweight characteristics of the pure titanium allows for the ideal amount of thickness behind the impact area to deliver consistent solid feel while simultaneously providing a dramatic increase in perimeter weighting for enhanced playability.
To date, only Mizuno's patented Grain Flow Forging process can deliver this technological advancement that produces these amazing gains in forgiveness, all within a compact, traditional head shape.
Tech Spec
Forged Ti Muscle™ Technology delivers increased forgiveness and solid feel in a player's head shape.
Scientifically designed to optimize sound and feel at impact utilizing modal analysis and Harmonic Impact Technology (H.I.T.).
Patented Grain Flow Forged 1025E "Pure Select" mild carbon steel and pure titanium combine to provide the ultimate soft, solid, and consistent feel.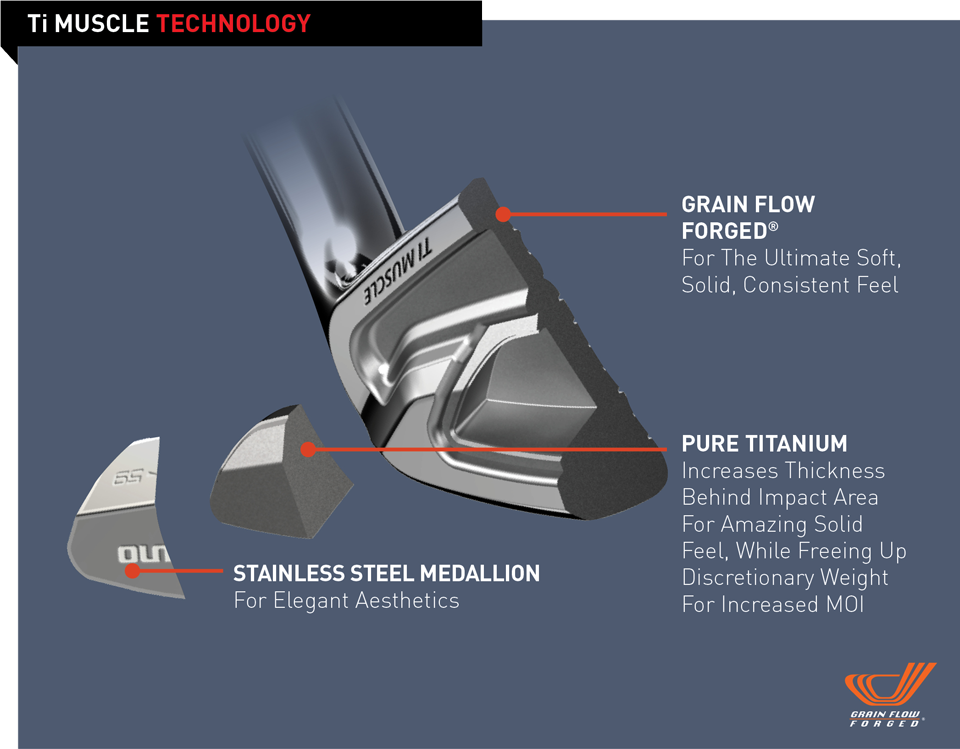 MP-59 R&D Video

Mizuno Performance Fitting System

Mizuno Golf Custom Manufacturing
---
Specification
| | | | | | | | | |
| --- | --- | --- | --- | --- | --- | --- | --- | --- |
| Club # | 3 | 4 | 5 | 6 | 7 | 8 | 9 | PW |
| LH | Yes | Yes | Yes | Yes | Yes | Yes | Yes | Yes |
| Loft º | 21º | 24º | 27º | 30º | 34º | 38º | 42º | 46º |
| Lie º | 59.5º | 60.0º | 60.5º | 61.0º | 61.5º | 62.0º | 62.5º | 63.0º |
| Off Set " | 0.142" | 0.134" | 0.134" | 0.130" | 0.122" | 0.114" | 0.106" | 0.102" |
| Bounce º | 3º | 3º | 3º | 4º | 4º | 5º | 6º | 7º |
| Length " | 38.75" | 38.25" | 37.75" | 37.25" | 36.75" | 36.25" | 35.75" | 35.50" |
Standard Stock SKUs
210528 RH (3-PW) Dynamic Gold
210529 LH (3-PW) Dynamic Gold
Stock Shafts
See Shaft Specifications
TRUE TEMPER DYNAMIC GOLD - S300 (STEEL)

Custom Shafts
See Shaft Specifications
PROJECT X GRAPHITE - 4.5, 5.0, 5.5

TRUE TEMPER XP 105 - R300, S300 (STEEL)

TRUE TEMPER DYNALITE GOLD XP - R300, S300

TRUE TEMPER DYNAMIC GOLD - R300, S300, X100 (STEEL)

TRUE TEMPER DYNAMIC GOLD SUPERLITE - R300, S300 (STEEL)
PROJECT X - 5.0, 5.5, 6.0, 6.5 (STEEL)


NIPPON NS PRO 1150 - R, S



Stock Grips
See Grip Specifications

Custom Grips
See Grip Specifications

Tour Velvet Midsize - 0.60 Round

Tour Velvet Jumbo - 0.60 Round

Tour Velvet White Full Cord - 0.60 Round

Tour Velvet Black Full Cord - 0.58 Round


Tour Wrap 2G - 0.60 Round

Tour Wrap 2G Jumbo - 0.60 Round

Tour Wrap 2G White - 0.60 Round

Multicompound BL/BK - 0.58 Round

Multicompound RD/BK - 0.60 Round

Multicompound WH/BK - 0.60 Round

Multicompound WH/BK - 0.60 Round, Midsize

Multicompound YW/BK - 0.60 Round

Multicompound Whiteout RD - 0.60 Round

Multicompound Whiteout BL - 0.60 Round

Multicompound Whiteout BK - 0.60 Round


DriTac Women's - 0.60 Round

DSI Black Women's - 0.60 Round

Winn Mizuno Lady Excel 360


R.E.L. 3GEN "Mizuno" Blue - 0.60 Round

R.E.L. 3GEN Gray - 0.60 Round

R.E.L. 3GEN White - 0.60 Round

R.E.L. 3GEN Red - 0.60 Round

R.E.L. 3GEN Orange - 0.60 Round