MP-4 Iron
new!
stock price starting at:
USD

$

999.99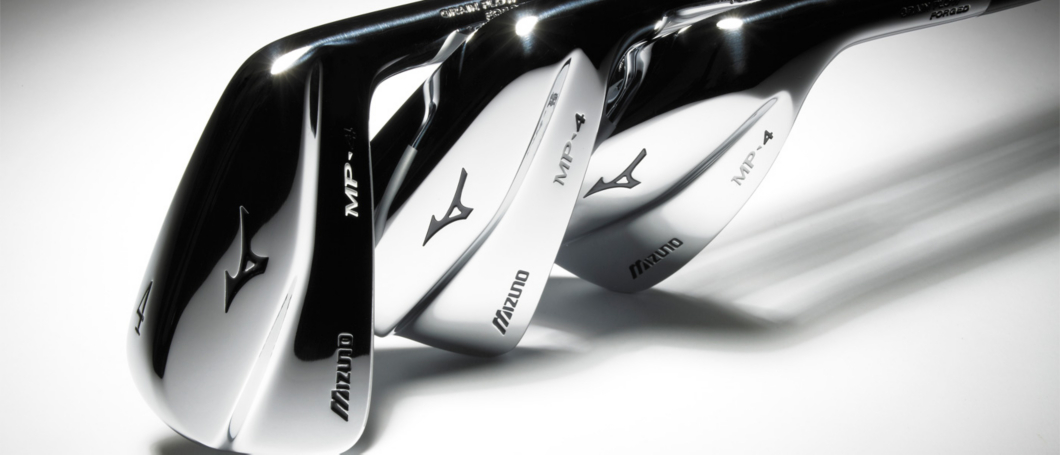 "The MP-4 gives real shot-makers the ultimate control over their ball flight – with the very purest feel and feedback possible. If you want to learn to become a truly great shotmaker, the MP-4 is the best teacher you can have".
- Tetsuya Kanayama, Manager Golf Club Development
Design Details
The MP-4 is the purest of forged muscle backs for shot-makers seeking the ultimate control over their ball flight.
A longer, softer sense of impact results from Mizuno's patented grain Flow Forging process and bulging muscle design that extends higher up on the clubface. The muscle bulge is most prominent in the scoring irons and reduces down through to the slender long irons – where design emphasis is placed on creating a quick launch and steeper landing angle to knock down flags.
Tech Spec
Pure Muscle Design: Bulging muscle ensures thickness behind impact for solid feel.
Shotmaker's profile: Thin top line & reduced offset helps manipulate ball flight.
Variable Muscle Bulge: More bulge in the short irons for trajectory control.
New profile 8-PW: More compact than previous MP irons,
Grain Flow Forged: From a single 1025E Pure Select mild carbon steel billet for enhanced feel.
Custom Set Make Ups: Available in mixed sets or with MP-H4 long iron alternative.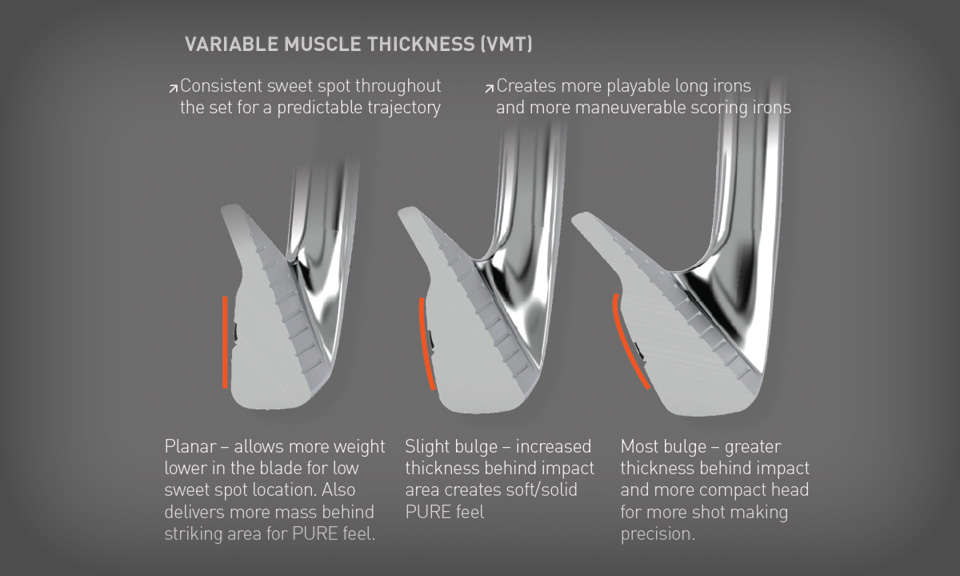 MP-4 Irons With Pure Muscle

Performance Fitting System

Mizuno Golf Custom Manufacturing

The Moment with Luke Donald
---
Specification
| | | | | | | | | |
| --- | --- | --- | --- | --- | --- | --- | --- | --- |
| Club # | 3 | 4 | 5 | 6 | 7 | 8 | 9 | PW |
| LH | N/A | N/A | N/A | N/A | N/A | N/A | N/A | N/A |
| Loft º | 21º | 24º | 27º | 30º | 34º | 38º | 42º | 46º |
| Lie º | 59.5º | 60.0º | 60.5º | 61.0º | 61.5º | 62.0º | 62.5º | 63.0º |
| Off Set " | 0.102" | 0.102" | 0.102" | 0.102" | 0.098" | 0.091" | 0.083" | 0.075" |
| Bounce º | 2º | 2º | 2º | 3º | 3º | 4º | 5º | 6º |
| Length " | 38.75" | 38.25" | 37.75" | 37.25" | 36.75" | 36.25" | 35.75" | 35.50" |
Standard Stock SKUs
210569 RH (3-PW) DG STEEL
Stock Shafts
See Shaft Specifications
TRUE TEMPER DYNAMIC GOLD - S300 (STEEL)

Custom Shafts
See Shaft Specifications
TRUE TEMPER XP 105 - R300, S300 (STEEL)

PROJECT X GRAPHITE - 4.5, 5.0, 5.5

TRUE TEMPER DYNALITE GOLD XP - R300, S300

TRUE TEMPER DYNAMIC GOLD - R300, S300, X100 (STEEL)

TRUE TEMPER DYNAMIC GOLD SUPERLITE - R300, S300 (STEEL)
PROJECT X - 5.0, 5.5, 6.0, 6.5 (STEEL)


NIPPON NS PRO 1150 - R, S



Stock Grips
See Grip Specifications

Custom Grips
See Grip Specifications

Tour Velvet Midsize - 0.60 Round

Tour Velvet Jumbo - 0.60 Round

Tour Velvet White Full Cord - 0.60 Round

Tour Velvet Black Full Cord - 0.58 Round


Tour Wrap 2G - 0.60 Round

Tour Wrap 2G Jumbo - 0.60 Round

Tour Wrap 2G White - 0.60 Round

Multicompound BL/BK - 0.58 Round

Multicompound RD/BK - 0.60 Round

Multicompound WH/BK - 0.60 Round

Multicompound WH/BK - 0.60 Round, Midsize

Multicompound YW/BK - 0.60 Round

Multicompound Whiteout RD - 0.60 Round

Multicompound Whiteout BL - 0.60 Round

Multicompound Whiteout BK - 0.60 Round


DriTac Women's - 0.60 Round

DSI Black Women's - 0.60 Round

Winn Mizuno Lady Excel 360


R.E.L. 3GEN "Mizuno" Blue - 0.60 Round

R.E.L. 3GEN Gray - 0.60 Round

R.E.L. 3GEN White - 0.60 Round

R.E.L. 3GEN Red - 0.60 Round

R.E.L. 3GEN Orange - 0.60 Round