We believe that sports make the world a better place.
It started in 1906, this love of sport. From the pitcher's mound to the pro tour to the backyard, it's not just a game. It's your game. It's our game. We believe that sports are for everyone. Not just the elite. Not just the naturally gifted. Everyone. And we're here to unleash the athlete within us all. After all, a society that plays hard together is healthier, more successful, and way more fun.
As an athlete, you're driven to be better. As the most trusted sports equipment maker in the world, we're here to make "better" happen – every day. As you work on your game, we're developing technologies that help you play like, well, you. Only better. And we'll stop at nothing to give you what you need to have the game of your life, every time.
We love sports and we're dedicated to testing our products with the very best in the game. Whether it's All-Star MVP Brian McCann giving us feedback on catcher's equipment, or PGA golfer Luke Donald weighing in on the design of our wedges, we constantly strive to be better. Better products, better performance, better enjoyment of the game you love. That's the Mizuno difference and you'll find it in each product we make.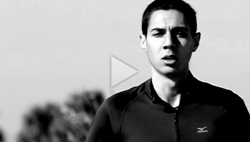 Mizunofesto
How far can you go?
How high can you reach?
How long can you endure?
How much more can you push yourself before you accept your limitations?
Or believe you don't have any?
You have as much doubt as you have drive.
As much fear as you have confidence.
Yet you still get up every morning with the same objectives:
To pass the ones in front of you.
Eclipse the ones behind you.
Impress the one inside you.
Inside each of us is a better us trying to get out.
Trying to make the most of what we've got.
Trying to be more than we think we can be.
Our victories are personal.
Our devotion is perpetual.
And our potential is limitless.
Sport is our passion.
Technology is our partner.
And being the best isn't nearly as important as doing our best.
Every day you make promises to yourself.
Be tough, only tougher.
Be strong, only stronger.
Be yourself, only better.
And, above all, never waver.
Never quit.