John Stacey
by Corporate on July 6, 2011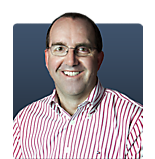 John Stacey's passion for sports and his competitive nature started from his early years growing up in a family of four boys, all of whom excelled in various sports.

John's love of sports has transcended into his business career. He is the President of Mizuno Canada Ltd. John held previous positions with the company as General Manager & VP Finance & Operations over a 14 year career.

During a 5 year span (1997-2002) away from Mizuno, John spent 2 years as the Chief Financial Officer of Janes Family Foods (Vaughan, ON based family company in the Frozen Food business) and 3 years as a Partner in Chartered Accounting/Consulting business.

After graduating from Wilfrid Laurier University in the Honours Business program, John started his career with KPMG (formerly Peat Marwick Mitchell). John spent 7 years with KPMG and obtained his Chartered Accountant (CA) designation in 1999. He gained valuable hands on experience in the Private Business practice at KPMG, which has lead to his entrepreneurial spirit in building the tremendous success of the Mizuno brand in Canada.

John resides in Kleinburg, ON with his wife and two daughters. His daughters are both very athletic (track and ice hockey) and the family enjoys an active lifestyle.