Dick Lyons
by Corporate on April 27, 2011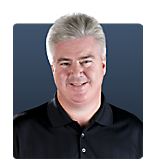 Dick Lyons was born and raised in Glen Ellyn, Illinois, a suburb of Chicago. His passion for golf began at a young age when he started playing at a municipal course named Village Links, while working various jobs on the premises including everything from range ball picker to pro shop clerk. From there he went on to be an accomplished Junior and High School golfer in the Chicago area before heading to the University of Oklahoma for his undergraduate degree. He continued his education at Northwestern University where he earned an MBA from the prestigious Kellogg School of Management.
Dick has 28 years of experience in the golf industry and has worked with some of the greatest players in the game. Ben Hogan, Jack Nicklaus, Tom Watson, and Luke Donald are just a few of the names that he has collaborated with, in one form or another, since his golf career began. Dick joined the Mizuno USA team as Vice President and General Manager of the Golf Division in 2001, and has been an integral part of Mizuno's continued success over the last decade.
Dick resides in Alpharetta, Georgia with his wife, two daughters and one son. His three children are all very athletic and involved in a variety of sports; however, there are no serious golfers … YET!