Bob Puccini Profiled in SGB Weekly
In the latest issue of SGB Weekly, Mizuno USA President, Bob Puccini shares his professional background and where he gets his passion and inspiration for the sporting goods industry. The full article by Aaron Bible is below.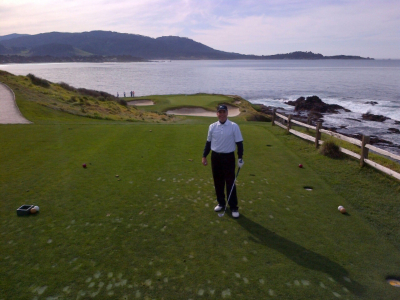 Bob Puccini's passion for sports and competition has transcended across his professional career. He joined Mizuno USA in August 1995 as vice president and general manager of Mizuno's diamond, athletic footwear/apparel and South American businesses. A year later in October 1996, Puccini was appointed President of Mizuno USA to oversee all operations in both the U.S. and South America.
In 2002 he was appointed Chairman of Mizuno Canada, Ltd., expanding his responsibilities to all Mizuno activities in the Western Hemisphere. In 2006, he was elected to the Board of Directors of Mizuno Corporation, Mizuno USA's publicly traded parent company based in Osaka, Japan.
Before Mizuno, Puccini served as president and CEO of Head Sports in Boulder, CO, where he began as vice president and general manager of the summer sports division. He also worked for Adidas USA as vice president, marketing communications; and for Spalding Sports Worldwide as vice president, field sales, and as business unit manager for golf products. He began his career with The Gillette Company in 1976 where he progressed from sales into brand management over a seven-year span.
He attended Fordham University in Bronx, NY, on a baseball scholarship and completed his MBA from Pace University in New York. In 2007, Puccini was elected to the Board of Directors of the Sports & Fitness Industry Association (SFIA), taking the reigns as Chairman in 2012 to help the organization restructure for growth.
His passions for sport and the Mizuno brand are lauded both on the golf course and in the boardroom.
What first drove you to get active in sports? My father was a multi-sport athlete at the same high school my brother and I also attended, and became a golf (teaching) professional and life member of the PGA. My parents encouraged both of us, at an early age, to get engaged in sports because of the core values it would teach us, keep us "out of trouble," as well the hope that we would both earn college scholarships since we would need financial aid. Both of us did exactly that.
What was your proudest athletic moment? While there are a number of proud moments, such as pitching a no-hitter to win our high school league championship, earning the New York Daily News All Star award, leading the league in strike-outs, and winning League MVP, my proudest moment had to be receiving the news that I had earned the scholarship to Fordham University. Fordham's coach was Gil MacDougald, Yankee star of the 1950s.
What set the stage for your career? When I blew my arm out and knew I couldn't pursue my dream of major league baseball any longer (I wanted to be a pitcher for the Yankees), I redirected that passion to compete into becoming a better student and competing in business.
How did you get started in the sporting goods business? I was recruited by a very smart Harvard MBA, ex-General Foods marketeer and GM at Spalding, Chuck Yash. He gave me an opportunity to work as the product manager for the Golf Club business. Back then (1983), Spalding was still a major force in the golf business and I felt I could learn a lot from Chuck and the team while living a dream of combining my vocation with my avocation.
Was there one person who served as your mentor for your career? In addition to my father, my high school baseball coach Mr. Dom Cecere was one of the most influential people in my life. He challenged, pushed and encouraged me to become the athlete and student I became. He instilled so many core values that we thought were about baseball and sports, but later, realized were about life. Discipline, hard work, dedication, team work, character and being a class act both on and off the field are values that drive me today and I will be forever grateful to a humble, dedicated and selfless man who will always be respectfully called "Coach."
What do you love about working at Mizuno USA? Most significantly, my personal values and convictions and those of Mizuno Corporation are tightly aligned: integrity, honor, discipline, hard work and attention to detail. A focus on quality and doing things right and "doing the right thing" are also critical values we share. The company was founded by Mr. Rihachi Mizuno in 1906 and his entrepreneurial and challenging spirit and view toward being unafraid to be the underdog, in many ways reflects my own life story from baseball, to education, to my business career.
What are you trying to change? While we will never sacrifice our values, it's important to adapt our "what, how, why, where and when" we execute to remain relevant, compelling and aligned with our evolving consumer and customer behavior. I have initiated a major project to ensure we are prepared to carry the brand to the next level of success and are positioned for long-term sustainability.
What's one thing that industry folks may be surprised to know about you? My wife of 35 years and I still enjoy our Friday night pizza date (when I'm not traveling) and still love watching the Yankee games on TV. And how blessed I am to be a grandfather and have my kids and their kids living five miles from my wife and me.
What is your advice to someone looking to work or grow their career in the sporting goods industry? Learn the fundamentals of professionalism, business management and leadership, including best practice methods and ideologies. Then, realize that these can be applied to and are transferable to most any business. Importantly, work in a culture and environment where you can make a difference, and pursue what you love -- you'll never work a day again!